VH-UQU de Havilland D.H.83 Fox Moth (c/n 4051)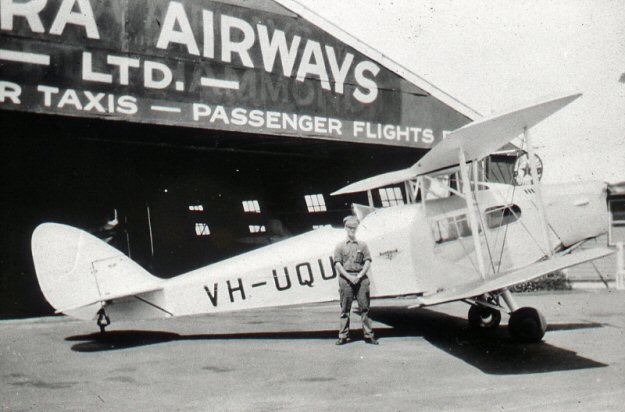 A nice shot above from the Ken Watson collection (via the CAHS) of a Fox Moth imported for
Adastra Airways in September 1933. The (unknown) bloke's hat looks like he might have been
military, but probably was an oil company man. Oddly, in the Neil Follett collection photo below
(via Geoff Goodall) the Fox Moth appears to have Royal Victorian Aero Club rudder stripes,
although the DCA register indicates that it was sold by Adastra in 1938 to Guinea Airways. The
image at the foot of the page is from the Robert Wills collection, (via Ron Cuskelly). VH-UQU
inaugurated Adastra's run from Sydney to Bega on the south coast of NSW. It was later aug-
mented with the Waco YKS6 VH-UOX and finally replaced by D.H.90 Dragonfly VH-AAD
in March 1938. Statistics for Adastra indicate 423 round trip flights between Sydney and Bega:
100 by the Fox Moth and 323 by the Waco YKS6. Incidentally, VH-UQU sustained a takeoff
collision at Mascot on 14 April 1936 when it struck the Moth VH-UOZ which was taking off
across its path, back in the days when Mascot had no runways. As stated above, with the intro-
duction of the Dragonfly, VH-UQU was sold to Guinea Airways in March 1938. It sustained
substantial damage in a crash landing at Sonia, New Guinea in August 1941 (see photo a the foot
of the page) and then a squadron of marauding Japanese fighters (probably A6M5s) finished the
poor thing off in January 1942. I am sure their C.O. was dutifully impressed when "three enemy
aircraft" were reported as being destroyed on the ground. Yeah....a Fox Moth, a Gipsy Moth
and a derelict Junkers. The Nip probably got a medal for it.
.......