VH-UQO de Havilland D.H.80A Puss Moth (c/n 2089)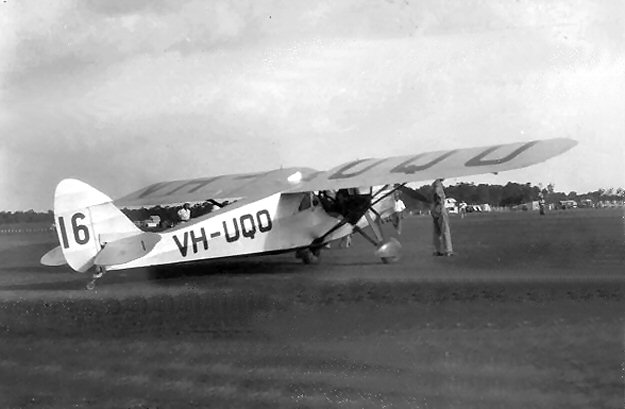 This aircraft was a participant in the 1934 McRobertson Trophy Air Race from London to
Melbourne in October 1934. Entered and flown by C.J. 'Jimmy' Melrose, the Puss Moth
was named "My Hildegard". It took 256 hours to reach Melbourne and placed second in
the handicap section. VH-UQO was later sold to aviator-of-note H.F. Broadbent, who
named it Dabs III. Following several epic flights within Australia, Broadbent left Darwin
on 10 October 1935 ostensibly to fly -UQO to England. In the event he forced landed near
Basra, Iraq and continued the trip by Imperial Airways. The Puss Moth was shipped back
to the UK where it became G-AEEB in April 1936. It was lost (written off) during WW II.
The above shot was from a box camera shot and came from my father's old album.. Taken
at the same time was the shot below, from the CAHS archives. Following that is an image
from the South Australian Air Museum archives showing a youthful Jimmy Melrose by the nose
of -UQO. (Sadly, Melrose was killed a couple of years later in the crash of his Phoenix
Heston VH-AJM). Finally, the scratched image at the foot of the page was extracted by
Graeme Parsons from the Burra Record (SA) for 29 May 1935. The caption, paraphrased,
indicates that the Puss Moth was flown on a record breaking flight around Australia by 'Jimmy'*
Broadbent (insert). His fantastic time of 3 days, 9 hours, 54 minutes in the Puss Moth is, I
believe, a record which remains unbroken.
VH-UUL floated around the Victoria area in the 1990s dolled up as 'VH-UQO - My Hildegard'
and was used in the TV-film "The Great Air Race". Filming took place at Point Cook, Victoria,
in 1991.

* Odd that he was referred to as 'Jimmy', since his given names were Harry Frank.