VH-UPV de Havilland D.H.60G Gipsy Moth (c/n 1812)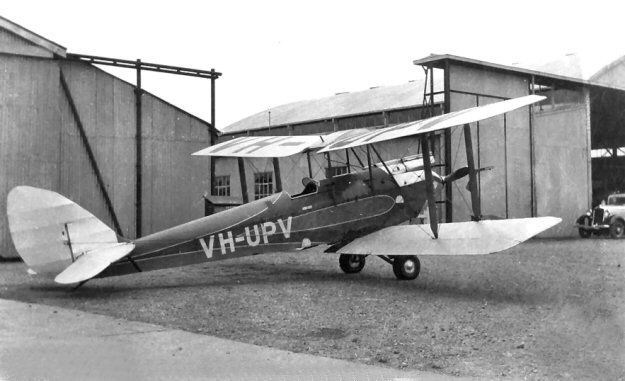 Two views of the aircraft in which Australian pioneer aviatrix Maude Rose "Lores" Bonney flew solo
from Brisbane to London in 1933. For the record, this is roughly five times the distance of Amelia
Earhart's trans-Atlantic trip. However, since Lores wasn't attempting any speed record, and since
(outside of Australia) nobody had heard of her, the feat went more or less unheralded. The Gipsy
Moth was named 'My Little Ship'. For her courage and perseverance she was awarded the Order
of the British Empire. Ms. Bonney died in 1994, but the Moth didn't fare as well. Returning to
Australia, it was sold to North Queensland Airways and eventually taken over by Airlines of Australia
Ltd in 1938. It was impressed into the RAAF in 1940 as A7-81. However, since it had been pranged
a few times before the RAAF got it, they decided it was pretty well u/s (unserviceable to you non erg
types). It therefore languished somewhere until after the war and then was RDP'd (reduced to
produce) ..........that's a nice way of saying 'scrapped'. I'm sure today that a machine with such a
history would have been preserved. This photograph above is from the John Oxley Library, State
Library of Queensland collection, while the lower one is from the Civil Aviation Historical Society
archives via Phil Vabre.