VH-UPP de Havilland D.H.60 Moth (c/n 355)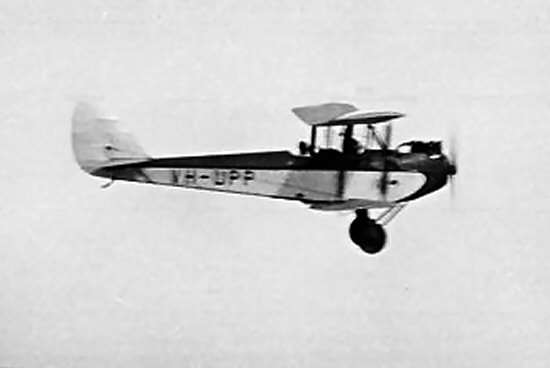 The images in this entry are via Nhill, Victoria historian Kevin OReilly. VH-UPP had been
imported into Australia as G-EBPP, a demo machine, by de Havilland Aircraft Pty Ltd (see
photo immediately below), It was flown across from Perth, WA (where it had been off
loaded) to Melbourne by Geoffrey de Havilland's brother, Hereward. It was registered
(somewhat out of sequence) G-AUPP, allowing it to carry its 'last two'. Initially sold to
Golden Aircraft Co of Sydney, it was sold again in January 1929 to L.F. Pratt of Geelong,
Victoria, and changed its registration to VH-UPP on 30 October of that year. A year later
it was sold to W. Rhodes and J.W. Paulden of Ballan, Victoria. .By the time the photo at the
foot of the page was taken, I suspect it had been registered VH-UPP. The name on the nose
appears to be

'Eaglehawk'.

Any clues, anyone?
On 27 January 1931 it was being flown by John Paulden and Eric Morris. Witnesses state
that the engine seemed to have quit* at about 1000' on descent into Belmont Commons Airport
at Geelong. The aircraft evidently stalled in from some 200' . Paulden and Morris (popularly
known as 'Exide Eric', due to his battery business) were both killed. C.D. Pratt, tutor of Paulden
and Morris was flying another Moth some 30 feet above them when the accident happened
(seems a little close?).
* Previous owners had reported the tendency for engine failure on this particular machine.