VH-UPO de Havilland D.H.80A Puss Moth (c/n 2084)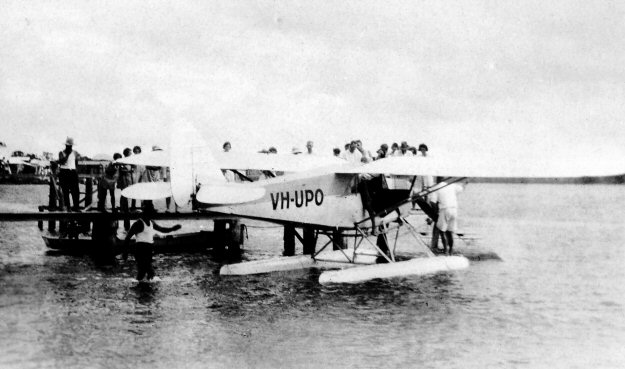 The two photos on this page are from the Robert Livingstone collection and show the Puss Moth
on the Brisbane River just after floats were installed in 1931. It carried the name "Puss in Boots".
and was owned, at the time, by Capt. R. Reid .who used it on an extensive tour of Port Moresby,
Sumatra, Woodlark Island, Rabaul, Kaewieng and Madang among the pearling luggers at Thursday
Island. When returned at the end of 1931 the floats were removed and it reverted to regular land
gear and reregistered to Robert Reid & Co of Sydney. By 1936 it was with Rockhampton Aerial
Services Ltd and was, as a result, taken over by Airlines of Australia Ltd later in that year. It was
acquired by Kingsford Smith Aviation Services in 1937 and later sold to Airflite Pty Ltd at Mascot.
Stored during WW II, the Puss Moth was sold in 1947 to Wollongong and South East Aviation
Service. It appears then to have been sold to Mrs. G. Woods of Timboon, Victoria in a dismantled
condition and was struck off the register in April 1947. In view of the fact that it was still around
after WW II I would be extremely surprised if no photos of it exist out there of it at that time.