VH-UOI de Havilland D.H.60M Moth (c/n 1478)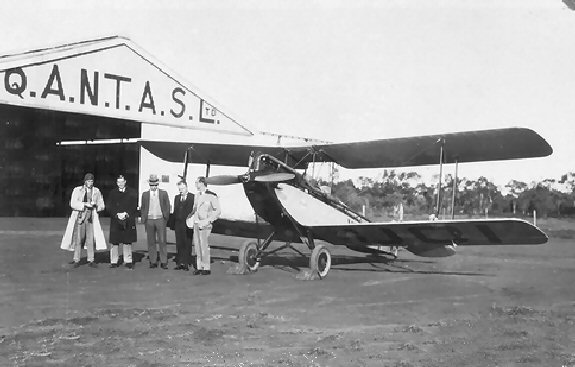 This shot is an enlargement from a Qantas archives snapshot. Close up of the original print
reveals it to be, in fact, VH-UOI. The aircraft was registered to Qantas in June 1930 and
at that time the airline was serving as the agents for D.H. This Moth was soon sold (in
September 1930) to R.H.G. Brand of 'Huxley' via Childers, Queensland. It was then
bought by famed Flying Doctor Clyde Fenton at Katherine, NT in July 1934 although its
CofA lapsed a year later. The shot immediately below is from the family album of Ellis
Trautman of Perth, whose aunt, Elspeth Tindill and his uncle George ran a station it Katherine,
at about that time, and where, no doubt, the photo was taken. Note the Moth by then suitably
adorned with red crosses. That's Elspeth in front of Dr. Fenton's Moth. Beneath that is a
shot from the Northern Territory Library collection showing it in the Qantas hangar possibly
undergoing this CofA renewal since it is dated circa 1935. Dr. Fenton had by then re-named
the aircraft, somewhat tongue in cheek,

'IOU

' partly in recognition of the mortgage held over
both this and his previous aircraft. The above-mentioned overhaul was originally to have
taken 48 hours, however there was another machine, VH-UJN 'The Magic Carpet' available
and accordingly the engineers suggested to Fenton that they carry out further work. VH-UOI
was signed over as collateral on VH-UJN on 12 May 1935 to Jim Fawcett, agent for the
mining company that had sold VH-UJN to Fenton for $450. VH-UOI was eventually written
off when it crashed at Darwin on 9 November 1936. It then languished for 80 years but has
risen, phoenix-like in 2017 to fly again, courtesy of the team at Luskintyre Aircraft Restorations.
Phil Vabre saw it (bottom of the page) at Echuca in March 2017.