VH-UNI de Havilland D.H.60M Moth (c/n 1431)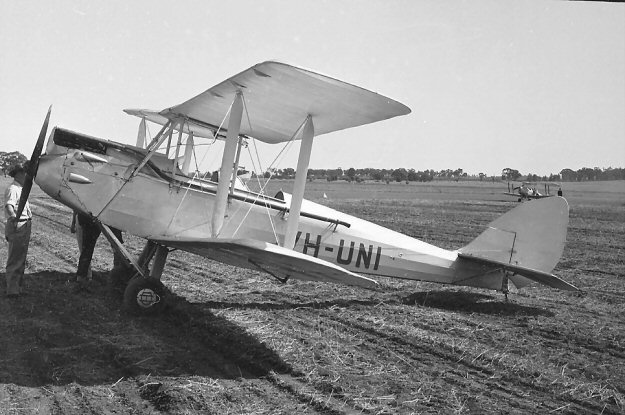 The photograph above and no 3 are from the Geoff Goodall collection, whilst no 2 immediately
below is from the Mac Job collection via the CAHS. The above photo, by Bob Neate, was
taken at an air show at Condobolin, NSW in April 1964 and the color photo by Mike Madden
was at "Wynwood" property via Mount Hope, NSW in April 1975. The aircraft had been
rolled out of its hangar for the photo-op. It was owned at the time by C.C.Wright. This "Metal
Moth" (so called because the metal tubing had replaced the old wooden formers - not because
the skin was metal) was first imported in January 1930. In 1987 it was donated to the Royal
Flying Doctor Service Museum at Katherine, Northern Territory, Australia and is displayed at the
old Katherine aerodrome. Like most of the Moths, it had its share of crashes. At the foot of the
page is an image from the Mayse Young collection showing -UNI following a crash at Victoria River
Downs Station in the Northern Territory on 31 May 1934. Pilot/owner Dr. Clyde Fenton of
Katherine was making a night flight from Ord River, WA, to Wave Hill with Dr W. G. Woolnough
aboard but was unable to locate the beacon and made a precautionary landing with the throttle link-
age broken. He took off without Woolnough the next morning and discovered he was 10 miles
from Victoria River Downs, but crashed on landing and walked to the station. Woolnough was
collected by a ground party. The Moth was recovered by de Havillands and remained dormant at
Mascot until rebuilt in 1939 when it was sold to the Macquarie Grove Flying and Glider School Pty
Ltd of Camden, NSW. It was still flying well, into the 1960s having had a series of owners in NSW
and in 1987 before being acquired by the Katherine, NT Museum and fully restored to static cond-
ition.