VH-UNC General Aircraft Genairco Open Biplane (c/n 10)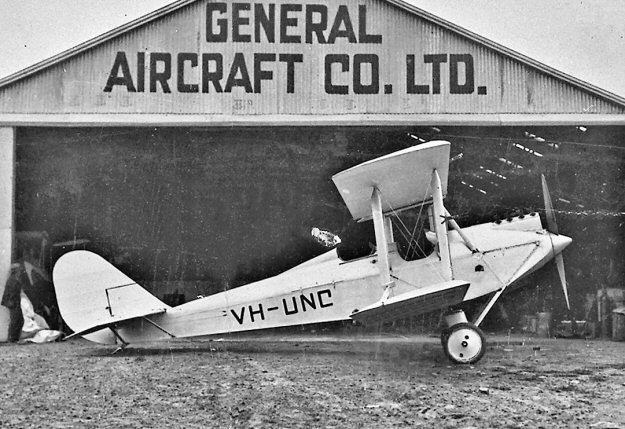 The above is a classic company publicity shot from General Aircraft of -UNC taken at Mascot
in early 1930 before its onward sale to Rockhampton Aerial Services Ltd. This photo is courtesy
of the John Hopton collection.

The shot below, from the Geoff Goodall collection, was taken at
Archerfield in 1938, whilst the scratchy print at the foot of the page is from my own scrapbook.
VH-UNC was the first Genairco, sometimes referred to as the Genairco Moth. Although based
on the D.H.60 Moth design, the Genairco was actually a totally different aeroplane. Following its
ownership by the Rockhampton company, -UNC had several other owners in Queensland. Its last
keeper, E. D. Hill of "Rose Vale" Station, Wyandra joined the RAAF at the outbreak of WW2
and had the aircraft stored "for the duration" in dismantled condition at Dalby Qld. In January 1946
he applied to DCA to get it flying again, planning to replace its Gipsy III with a Gipsy Major and the
aircraft was moved to Archerfield to renew its CofA and change engines. However in December
1947 Hill told DCA that he no longer wished to re-register the Genairco, as he had purchased the
DH.84 Dragon -AYZ (which he flew for many years). The fate -UNC is unknown It probably
rotted in away a barn somewhere.