VH-UMK Airco D.H.9 (c/n [D3189] )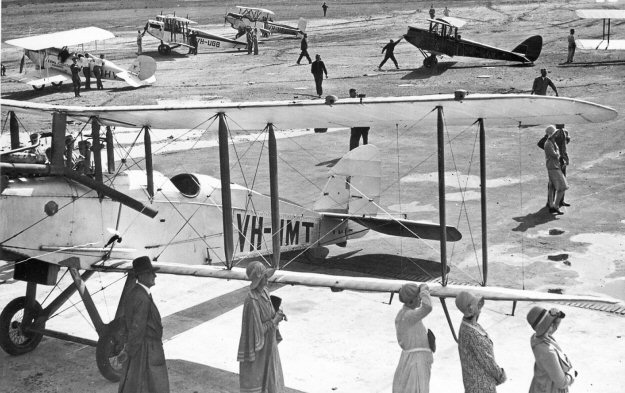 Two rare photographs from the Frank Walters collection (via Geoff Goodall) taken at Mascot,
above in 1931, below in 1929. Formerly A6-9, this aircraft was registered VH-UMK in 1929.
Re-registrations in those days were rare but the CAB allowed G.E. Marris-Kerry to be allocated
-UMK for his D.H.60X Moth, whereupon the D.H.9 became -UMT. It was operated by the
CAB's Australian Aero Club (NSW Section) and later by the Aero Club of NSW when the titling
was changed. It was struck off the register in May 1931. Note rare collection in the background
of the shot above. Nearest the camera is the American Eagle VH-UHV with 'Aerial Flights
Company' titling, then the Curtiss JN-4D VH-UGB and top is the Curtiss Ireland Meteor VH-UFQ.
The rego of the D.H.60 cannot be discerned. I have photos of my mother wearing a hat just like
these ladies are wearing.