VH-UMF
Avro 618 Ten (c/n 241)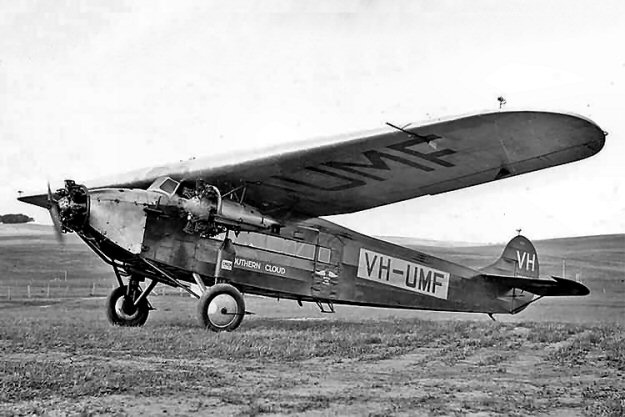 The above nice image is from the John Hopton collection. The Avro Ten (8 passengers plus two
crew) was, in fact, the Fokker F.VIIB/3m built under license by the A.V. Roe concern. 14 were
built in all, five of which were purchased by Charles Kingsford Smith (later Sir) and Charles Ulm
to inaugurate their " Australian National Airways" in 1930. These aircraft were:
VH-UMF c/n 241 "Southern Cloud"
VH-UMG 230 "Southern Star"
VH-UMH 229 "Southern Sky"
VH-UMI 231 "Southern Moon"
VH-UNA 388 "Southern Sun"
There was also another "true" Fokker F.VIIa/3m registered to Australian National Airways Ltd at
the time, which was, of course, probably the most famous historic Australian aircraft ever, namely
Kingsford Smith's VH-USU "Southern Cross"
The Australian National Airways mentioned here, incidentally, was a different company than the
airline later to adopt that name in 1936. This ANA folded in mid-1931 following the loss of the
aircraft seen above,

"Southern Cloud"

(VH-UMF) which crashed in the Toolong Mountain range
on March 21, 1931, on a flight from Sydney to Melbourne.
The photo below, from my own scrapbook, shows Smithy (hand on hip) in front of -UMF with a
1928 Triumph Super Seven motor car. Kingsford Smith dabbled, later, in the production of the
short-lived Southern Cross car, the brilliant adventurer having designed the 65 bhp horizontally-
opposed 4-cylinder sv engine which went into these machines. (Less than a dozen were built,
I believe).