VH-ULV Waco 10T (c/n A.100)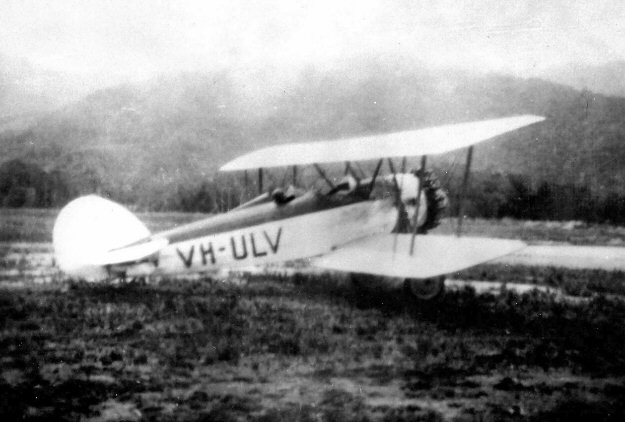 Developed from the docile 'Waco Ten' the Model 10T Taperwing transformed the aircraft into a
truly sportsman-pilots dream machine. This aircraft was originally registered to Aircrafts Pty Ltd
of Archerfield, Brisbane in August 1929. It was sold to Holden's Air Transport Services Ltd in
Salamaua, New Guinea in October 1931. The above blurred image from the Frank Walters coll-
ection shows it at that locale sometime after its arrival. I suspect that the image below, from the
State Library of Queensland collection, predates the one above and depicts the aircraft at Archer-
field in its original livery. The caption does not identify the three gentlemen, but one was almost
certainly Ron Adair, founder of Aircrafts P/L. (After advancing to scheduled passenger flights, the
airline became Queensland Airlines in 1949). Note rego applied under the cockpit allowing space
on the fuselage for the Waco logo. Anyway, VH-ULV then spent its whole life in New Guinea
and in 1936 was sold to J.W. Williams of Fly River, Papua and then to Stephens Aviation of Wau
in mid 1937. Later that year it forced landed in a swamp, but by 1939 had been rebuilt. VH-ULV
was one of the aircraft destroyed by a Japanese air attack on Salamaua, New Guinea on 21 January
1942. (The Nips probably thought it was a deadly P-6 or something of that nature!).