VH-ULQ de Havilland D.H.60G Gipsy Moth (c/n 976)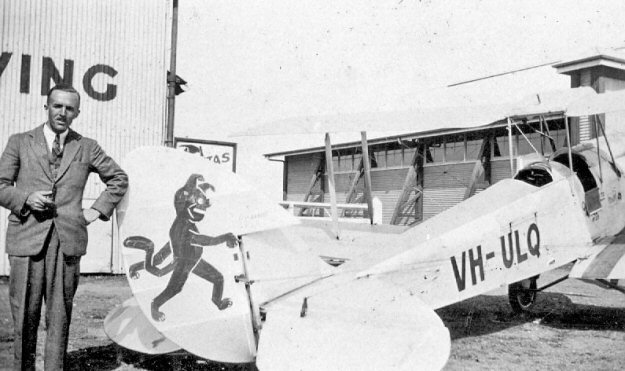 This shot, from the Frank Walters collection, was taken at Archerfield in August 1929, the month that
this Moth was registered, new. Since the aircraft was still in the hands of the distributor, Qantas, at the
time, I do not know why it is emblazoned on the rudder with the Devil. The gentleman is Lester J. Brain*
who later became Chief Pilot for Qantas. The image immediately below, also from the Walters collec-
tion, was taken at the same time with Brain in the center with presumably two Qantas crew members.
Finally, at the foot of the page, the Moth is seen as one of a trio in a photo from the Fairfax (Sydney
Morning Herald) archives via the National Library of Australia. This shot was taken at Hargrave Park,
NSW during an aerial derby on 21 September 1930. The other two aircraft are Moth VH-UIC and
Avian VH-UOE. In April 1930 -ULQ was sold to Australian National Airways. Eighteen months later,
on 1 November 1931 it crashed into a tree on take off after a forced landing at Delungra, NSW and was
subsequently written off.

* Lester Brain went on to become Flying Operations Manager for Qantas in 1938. Joining the
RAAF Reserve during WW II, he was given the King's Commendation for his efforts in rescue-
ing persons from a Jap air raid at Broome, WA. After the war he became General Manager for
TAA. He left TAA in 1955 and was appointed Managing Director of de Havillands at Bankstown.
before joining the Board of Directors of East-West Airlines in 1961.