G-AULA ULA de Havilland D.H.60G Gipsy Moth (c/n 847)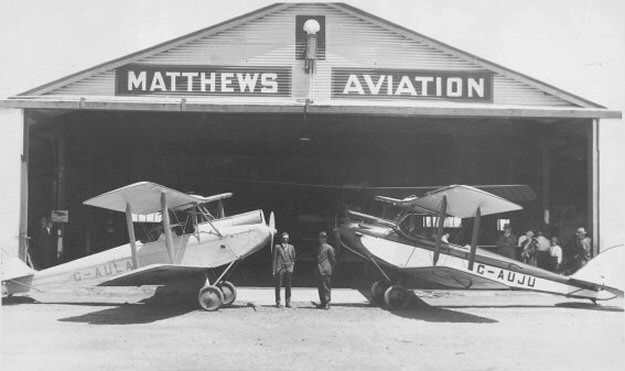 The shot above is from the George Matthews collection and depicts "De Havilland biplanes parked
inside and in front of Matthews Aviation hangar at Essendon in the late 1920s". This Moth was orig-
inally registered to L. Abrahams t/a Louis Coen Wireless Pty. Ltd. of Melbourne. Mr. Abrahams
was owner and operator of Melbourne radio station 3UZ. By August 1930 the aircraft had become
VH-ULA. Seen below are two shots from the John Hopton collection. They were taken at Essendon
in the early 1930s. The corporate name was changed in 1935 to Radio Corporation Pty Ltd, which
presumably was the Australian licensee for RCA. The "Hart" titling on the mechanic's overalls was
for Hart Aircraft Services. I have been unable to unearth any specifics on the strange canopy seen on
this aircraft, (below) where it came from, or what its purpose was. Also, there seem to be three wheels
being bandied about. The one on the aircraft looks about right for a latterly converted Moth. The
mechanic appears to have the original, 1929 solid tire version, while the 'bush-style' balloon tire is being
held by a trilby-hatted gentleman by the name of Beau Shiel. Mr. Shiel was a New Zealander who was
closely associated with Vacuum Oil Co's aviation division and was experimenting with these fat tires at
the time. A close up of Sheil with said tire appears at the foot of the page. Mr. Sheil later returned to
New Zealand and became Vacuum Oil NZ's Aviation Officer. At the end of 1935 this Moth went to
H. Boston t/a Interstate Flying Schools Pty Ltd which operated out of Mildura. In 1938 it went to the
Aero Club of Broken Hill and was destroyed in a hangar fire there on 6 September 1939.