G-AUJK de Havilland D.H.60G Gipsy Moth (c/n 984)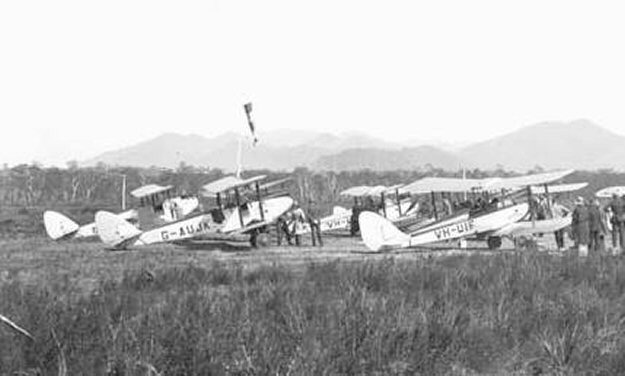 G-AUJK is seen above as one of several machines which stopped over at Coffs Harbour sometime
in 1929 en route from the Ballina Carnival. This shot is from the archives of the Coffs Harbour Library.
In the Sam Hood photograph below (via the State Library of NSW collection) it had been repainted and
re-registered VH-. The caption for this latter image states that it depicts "Frank Annabel arriving at
Hargrave Park for an Air Pageant" which would date the photo to1930 or thereabouts.. The rough
image at the foot of the page was taken from a newspaper photo from the Sydney Morning Herald dated
26 Octoiber 1929. The caption read: :
"CAUGHT IN AIR POCKET, AEROPLANE CRASHES AT MASCOT.
Max Mitchell, the pilot, was injured yesterday, when this Gipsy Moth side-
slipped out oí an air pocket and crashed twenty feet to the ground. The
wings were telescoped and the propeller broken off".
Originally first registered on 21 March 1929 to R. Annabel and it was then sold to I. D. Master of Wellington, NSW in September 1931. It was then brokered through de Havillands at Mascot in 1936 who refurbished
it and resold it to the Whyalla Aero Club. This outfit changed its name to Spencer Gulf Aero Club in 1938.
VH-UJK was evidently not impressed during the war and was finally withdrawn from use in August 1945 and
broken up for spares.