VH-UJH de Havilland D.H.60G Gipsy Moth (c/n 983)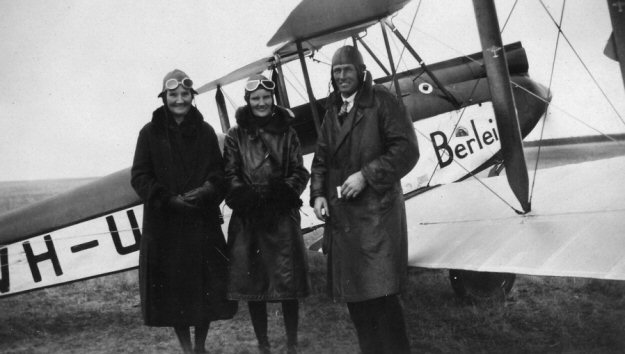 Thus far I have been unable to glean any uncropped shots of this aircraft. The above photo is
from the M.D. Cobcroft collection, whilst the lower two are from the Fairfax archives, via the NLA.
The picture above shows Miss Irene Dean-Williams (center), her mother, Mrs. Selina Mathilda
Dean-Williams and Harry "Cannonball" Baker, Miss Dean-Williams' West Australia Aero Club
flying instructor. The shot was probably taken at Tammin, W.A. on 1 May 1932 where Irene had
just landed in her Moth after completing a trans-Australian solo record breaking flight for a woman
aviator. The Fairfax archives shots below were taken on 23 April 1932, probably at Adelaide and
possibly while she was positioning for the record flight. VH-UJH had been sold to her by Baker
Aviation Co in March of 1932. Her mother had been flown out from Maylands to meet her by
Mr. Baker in a club Moth. Due to bad weather she did not complete her solo flight to Maylands
until the following day. 'Berlei', manufacturers of women's undergarments, were her sponsor.
-UJH became a RACWA club aircraft itself in 1937 and was then sold to a private party in Kalgoorlie
before passing to the Western Australian Goldfields Aero Club, also of that city. It was impressed into
service during WW II as A7-77.