VH-UIK Avro 594 Avian Mk IIIA (c/n R3/CN/145)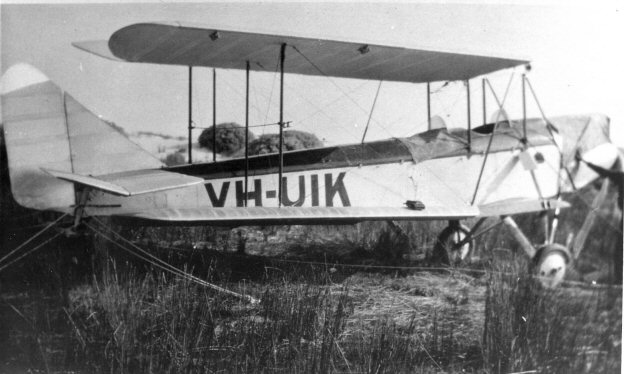 This Avian was originally imported in September 1928 (as G-AUIK) for Charter Wing, Ltd of
Brisbane. Its CofA lapsed in 1930, but by 1934 it was owned by Lance Brown of Albany, WA.
It is seen at that venue in the above shot from the Geoff Goodall collection.. It had a mishap soon
after it was registered, as, when piloted by Capt. E. J. Stevens in October 1928, it nose-dived into
the sands at Greenmount Beach, Coolangatta. A clipping from the Brisbane Courier for 15 October
1928 is appended below, showing the Moth in its uncompromising attitude and registered G-AUIK.
In fact, it was used mostly for joyriding from town ovals, beaches and farms. Brown later moved
to Kalgoorlie WA and the Avian was damaged in 1937 at Leonora after allegedly being stolen by
another pilot. The aircraft was trucked to Kalgoorlie and repairs begun in a shed at his house, but
abandoned with the outbreak of WW II. The airframe was damaged by local children in the shed
and the remains were burned in 1947.