VH-UII de Havilland D.H.60 Moth (c/n unknown)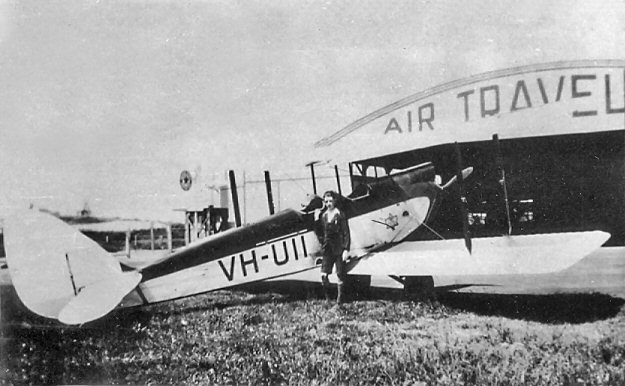 Photos of this odd Moth have been difficult to glean. The above very contrasty shot is from the
Frank Walters collection and was taken at Archerfierld, date unknown. This Moth was built
and owned by Harold Cheesewright, of Petersham, NSW from the engine of VH-UIS (which
had crashed and destroyed by fire at Urunga, NSW on 12 December 1929) and fuselage and
wings presumably obtained from de Havillands. Odd that they didn't give him a c/n for it. It was
registered in July 1931. On 12 March 1933 Harold had engine failure and crashed it at Henson
Park, Marrickville, NSW. He and his passenger were unhurt and, in, fact, -UII was rebuilt again.
Graeme Parsons culled the photo below from the Sydney Morning Herald of the following day.
Graeme indicates that, coincidentally, his father used to race bicycles in the velodrome in the
centre of that park at about that time! Upon rebuild it was sold to O.F.Y.Thomas of Hillston,
NSW and in July 1934 sold again to the Victorian Flying School and Taxi Service Pty Ltd of
Essendon. Dogged by mishaps, it struck the top of another aircraft whilst landing at Essendon
on 2 February 1936, (pilot H. Bond) with minor damage. It was then acquired by Holyman
Airways Pty Ltd (presumably for training) in April 1936. Finally, it crashed into a house after
hitting telephone wires and a chimney, caught fire and was damaged beyond repair at East Oak-
leigh/Mt Waverly (where I used to live in the early 1950s) on 16 May 1936 (trainee pilot N.K.
Field).