VH-UIF de Havilland D.H.60G Gipsy Moth (c/n 821)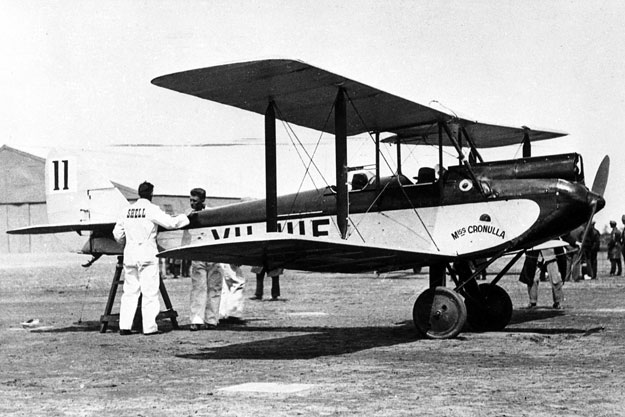 VH-UIF was first registered to F.K. Bardsley of Penshurst, NSW in December 1928. In 1930
he moved to Cronulla and in the images above and immediately below, from the CAHS archives,
the machine can be seen to be named

'Miss Cronulla'

. .

The third photo, from the Geoff Goodall
collection was taken at Perth's Maylands Airport in 1930 whilst the aircraft was visiting. Note that.
WA Airways' ubiquitous Bristol Tourer -UDZ in the background has not yet succumbed to the
nationalist re-registration treatment. VH-UIF was damaged in a crash near Dirranbandi, Qld on
30 September 1938. It was subsequently repaired and sold to R.R. Russell of Chinchilla, Qld.
The shot at the foot of the page, from the John Hopton collection, shows the machine at a Kempsey,
NSW air pageant on 29 March 1936 with "Clarence River Aero Club, Grafton" on the tail. Even
in those days I would have thought they could at least have mown the paddock if they were going
to park aeroplanes there! VH-UIF was not stricken off the register until 1947.