VH-UIA de Havilland D.H.60G Gipsy Moth (c/n 835)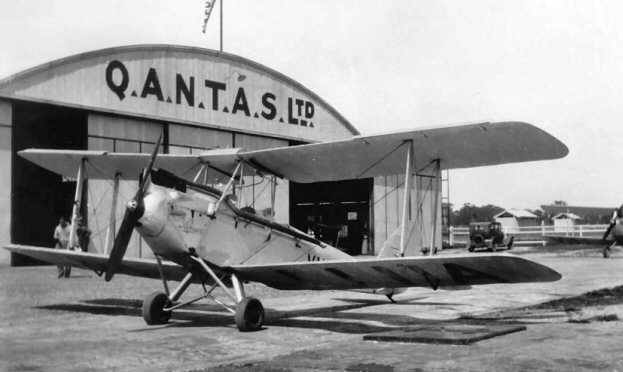 The above image is from the John Oxley Library, State Library of Queensland collection. This is the
Gipsy Moth given to pioneer Australian aviator Keith Virtue by his father when Keith secured his pilot's
licence at the age of 19. He had trained under the instruction of Captain Lester Brain at the Qantas
Flying School at Archerfield where this shot was taken. The two photos below are from the Bruce
Robinson collection. The upper one shows -UIA on the beach at Brunswick Heads, NSW in 1930,
whilst the lower depicts Keith having his helmet adjusted at Lismore in 1931 (the year I was born).
. Just love that "Virtue's Air Travel No. 1" in the upper shot. Forerunner of many? In the event
Keith, along with Bruce's grandfather, G.A. Robinson, went on to found New England Airways, and
became Flying Superintendent for Airlines of Australia, and a senior captain with ANA until his well
know faux pas in 1954 when he landed a DC-4 wheels up at Eagle Farm. VH-UIA, in the meantime
had been sold in 1934 to the Victorian Flying School and Taxi Service in Melbourne and then to Holy-
man's Airways Pty Ltd in 1936. It was picked up by ANA when that airline was formed at the end
of 1936 and went on the serve with the RAF during the war as A7-105. Its ultimate fate is unknown,
but I suspect it was scrapped or RTP'd.