VH-UHT Airco D.H.9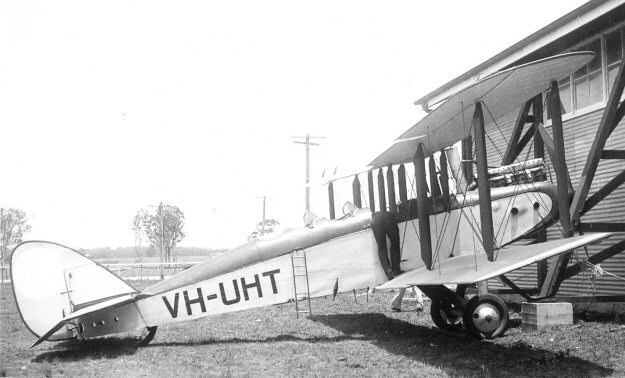 A large number of surplus Airco-built D.H.9s became available after the WW I, not only in the
U.K. but also in Australia and South Africa. Just why this one was not registered until July
1928 is a bit of a mystery, but it must have been stored somewhere. It was originally acquired
by Horrie Miller, (founder of MacRobertson Miller Aviation) who, at the time, was trading as
Commercial Aviation Company of Parafield. By 1932 G-AUHT had become VH-UHT
and was registered to MacRobertson Miller Aviation. It was sold to Skyways Ltd of Norwood,
SA in September 1936 and crashed at Kadina, SA on 15 May 1937 and was written off.
Photographs from various sources, viz:
Above - The Redall collection, via the AHSA (NSW)
Immediately below - Geoff Goodall collection (as G-AUHT)
# 3 - The Horrie Miller collection (as G-AUHT)
# 4 - The Civil Aviation Historical Society of South Australia collection, as a participant
in the 1936 Air Race (possibly one the few machines to enter both the 1929 and
'36 races)
# 5 - Showing the crash at Kadina from the Nigel Daw collection.