VH-UGZ Junkers W.34b (c/n 2601)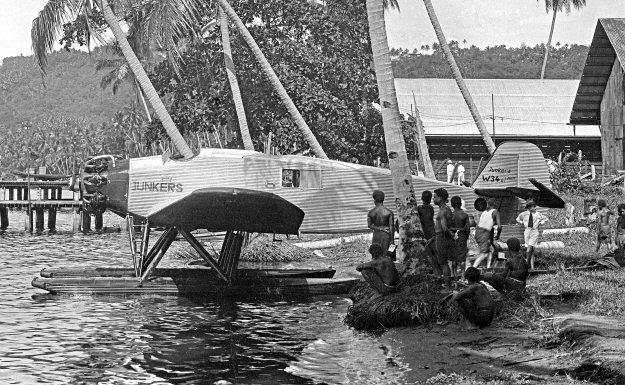 Here's a Junkers floatplane in an exotic setting in New Guinea, probably in the late 1920s. Photo
courtesy of the John Hopton collection. That it is, in fact, VH-UGZ (or possibly G-AUGX) can be
ascertained by the close up of the tail (below) showing the c/n on the fin. Ex D-1294, it was import-
ed for Guinea Airways on 20 March 1928. The very nice shot below by Charlie Pratt (from the
Kevin O'Reilly collcection) shows it just after it had been assembled from Grmany, and prior to the
fitting of the floats. -UGZ crashed two years later (on 6 March 1930) at Wau, New Guinea.
That it did eventually have the rego painted on is evidenced by the clipping from the Sydney
Morning Herald of 14 April 1930 (image at foot of the page) and accompanying caption
which read "First picture to hand of the aeroplane which nose dived in New Guinea last month.
Pilot Boyden had a narrow escape". (An understatement, to say the least!).