VH-UGY Travelair 2000 (c/n 287)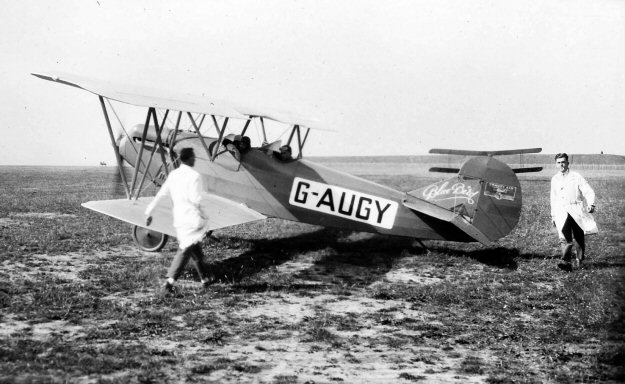 The rare photo above is from the Alan Betteridge collection (via Kevin OReilly). It shows the
Travelair at Essendon, circa 1928 bearing the name 'Blue Bird' on the fin. It was owned by
Airways of Australia Pty Ltd at that time. The equally rare shot immediately below, from the
CAHS archives shows the Travel Air over the aerodrome in the same livery, but re-registered
VH-, probably circa 1930 This aircraft was one of the first US imports into Australia, being
first registered on 20 March 1928 and originally classified as a Travel Air 2000 with a 90 hp
Curtiss OX-5 engine . In February 1934 the airframe only was acquired by Mr. Patrick Moore-
McMahon of Hurstville, NSW. He installed a 220 hp Wright Whirlwind engine, effectively
making it a Travelair 4000*. The two further images below are from the John Hopton collection,
and illustrate the machine as such. The upper shot is circa 1942 when DCA ordered all civil
aircraft to be painted in camouflage, and sporting RAAF style fin flashes. The lower photo was
taken at Mascot after it had been named '

Wings of Song

'. In 2011 Mr. Michael Egan contacted
me and indicated that, in the lower shot, the individual posing by the aircraft is, in fact, his grandfather,
the above mentioned Mr. Moore-McMahon. This gentleman retained the aircraft until 1942 when
he sold it to J.H. Bowden of Kogarah, NSW. . It was shortly afterward resold to T.A. Barrett of
Orange, NSW and in April 1944 its CofA was allowed to lapse, never to be renewed. Its wings
were stored in the rafters of a shed in NSW up to the mid 1960s.

* When formed in 1925, Travel Air Inc. was spelled like that, as two words. Later common
connotations reduced it to Travelair. The Model 2000 was introduced from 1926 to 1928 with
the 90 hp Curtiss OX-5 engine They were known colloquially in the US as 'old elephant ears',
presumably because of the prominent rudder horn balance.