VH-UGX de Havilland D.H.60X Moth (c/n 425)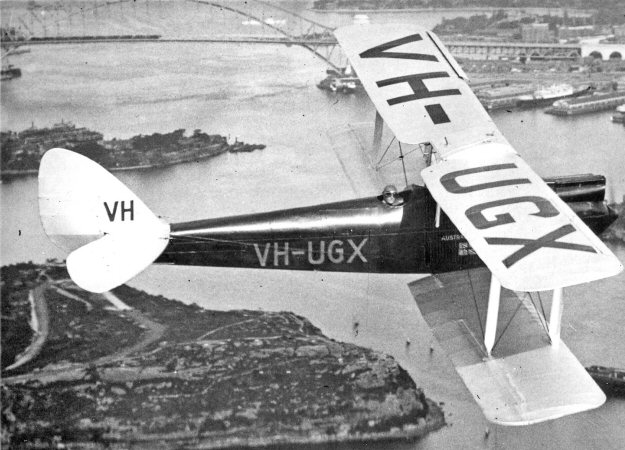 Originally owned by O.B. Hall and D.G. Officer of Bellevue Hill, NSW, this Moth was acquired,
in January 1930, by Hart Aircraft Service Pty Ltd (a broker?). It was then sold to the Central
Australian Gold Exploration Co as a replacement for VH-UMR (

'Golden Quest'

) which had
crashed some 200 miles west of Alice Springs in August of 1930. -UGX was named

'Golden




Quest 2' ,

as seen in the image immediately below. It is seen above circa 1931 (looks like Sydney
Harbour Bridge was still under construction) in this photo from the Frank Walters collection

.


The company had been formed to specifically search for an alleged reef of gold which Harold
Bell Lasseter claimed to have found on the western edge of the McDonald Ranges. The aerial
search was less than successful (pilot W.L. Pittendrigh got lost trying to find the base camp, and
was forced to land, nearly perishing for lack of water). Lasseter himself left the base camp with
7 camels on 15th. September 1930, heading SW in search of the reef that he had claimed to have
seen from the air in Golden Quest 2. He perished in the desert after his camels bolted. For more
details on this story of Australian exploration go to
. http://www.duckdigital.net/FOD/FOD0499.html
Anyway, in May 1931 VH-UGX was sold off to Adastra Airways of Mascot and then, three
months later to J.N.M. Weir of Sydney When its CofR lapsed in 1932 it was fitted with a
Gipsy II engine before being renewed. Sold again in January 1934 to D.L. Rawnsley, it was
repatriated in July of that year back to the U.K. becoming G-ACXF. The fourth image of -UGX
(below, in company with VH-UJN) is from the John Hopton collection.
Finally at the foot of the page is a photo which appeared in the Sydney Morning Herald for
31 March 1928 depicting G-AUGX as the "racing machine in which Major de Havilland made
a non-stop flight from Melbourne to Mascot in 5 hours 3 minutes"..