VH-UGQ Miles M.2F Hawk Major (c/n 212)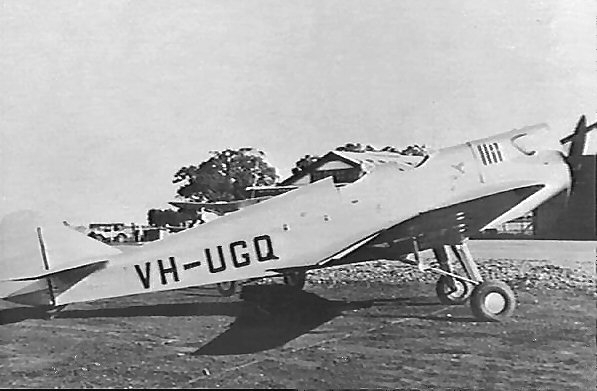 This Hawk Major was acquired by the Rev H.V. "Sheppy" Shepherdson of Darwin in May
1936. A scant six months later it crashed at Groote Eylandt in the Northern territory and
was essentially written off. Moved to Brisbane, it was destroyed in the disastrous Qantas
hangar fire at Archerfield on 28 June 1939. The three low resolution images (above and
below) were gleaned from the H.V. Shepherdson collection of the Northern Territory Library.
As most viewers to this site know, I am long retired and living on a fixed income. The purpose
behind the site is to preserve (hopefully forever) the rich heritage of both Australian and world
aviation history in a pictorial form. My limited budget, therefore, does not allow me to pur-
chase high resolution copies of these, or any other out-of-copyright images. (The fee charged
by the NTL for emailed images is A$25.00 per item). Viewers seeking a higher resolution
copy of any of these rare photographs should contact the Northern Territory Library directly.
Incidentally, in the photo below the gentleman standing in beside -UGQ and in front of the
C Series International Wagon was the Rev. Harry Griffiths.