VH-UGJ de Havilland D.H.60X Moth (c/n 3)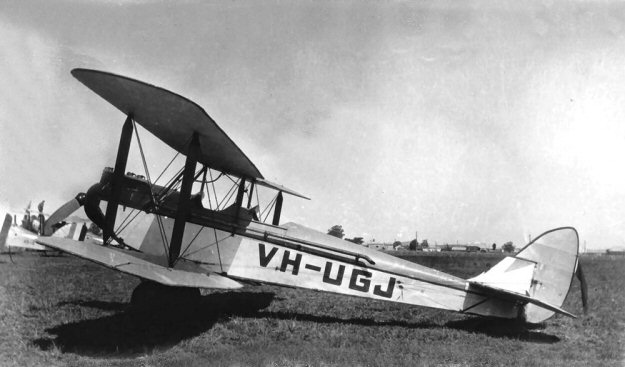 This Moth was assembled by de Havilland Aircraft Pty Ltd in South Melbourne in 1927. As such
it has a "local" c/n. Apparently Stag Lane did not allocate UK serial numbers to the kits sent out.
It went to the Australian Aero Club (NSW Section) at Mascot, and wound up as part of the Royal
Aero Club of NSW fleet.. Presumably it took a trip to Queensland when the above photo, courtesy
of the John Oxley Library. State Library of Queensland collection, was taken, although the date and
venue are unknown. The two illustrations immediately below are from the Faiurfax newspaper archive
collection (via the NLA) and were taken at an Aerial Pageant at Mascot in March 1928. G-AUGJ
evidently participated in an air race along with G-AUAH and G-AUFV, and the second shot shows
them practicing for the event. VH-UGJ was written off in a crash landing on 8 October 1940.
At the bottom of the page is a photo from the Howard Morris collection (via Geoff Goodall) of -UGJ
following said accident. The machine had hit a windsock pole while landing, and Howard Morris
was the pilot/ instructor At this time the club was training RAAF cadets prior to the EFTS schools
being established across Australia, hence the presence of RAAF personnel. This finished the career
of this early Moth import which had been flown exclusively by the aero club since its Australian CofA
was first issued on 19 September 1927. Note the club wings and fleet number 5 on the rudder.