VH-UGH de Havilland D.H.60 Moth (c/n 354)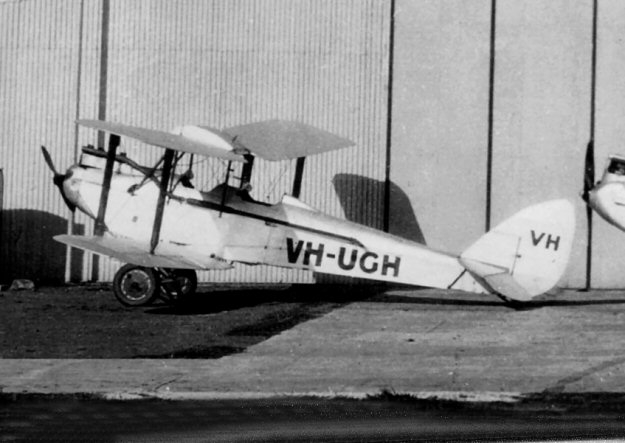 This rare photo is from the Neil Follett collection. Rare, inasmuch as this aircraft was struck off the
register in 1933. It was originally imported in August 1927 for Qantas (as, of course, G-AUGH).
The photo immediately below is from the Gus Grulke collection and shows -UGH circa 1930 in
Queensland, with company name Sky Travel (Australia) Ltd, Brisbane on the nose and advertising
WUNDA painted under the upper wings. This company set up an short-lived airline service from
Brisbane to inland towns in November 1930 with Junkers F.13L VH-UPL Glorious Queensland,
flown by T. H. Bishop, who had purchased this Moth in December 1927. Qantas had sold it at the
end of 1927 to T.H. Bishop who 'transferred' it almost immediately to Mrs. D.E. Reis. Image No 3
came from Carolyn Collins and shows it still as G-AUGH at Bundeberg, circa 1929 Carolyn
indicates that the little boy, centre of the starboard wings is her father, whilst the lady on his right
is her grandmother. The low-res image following that, from Picture Sunshine Coast, shows the
Moth on the beach at Noosa Heads in the late 1920s In February 1931 (by which time the
aircraft had had a couple of mishaps) Qantas bought it back, only to sell it again in October 1932
to C.H. Ferris, still based at Archerfield, where presumably the above photograph was taken.
Anyway, following a takeoff accident at Rocklea, Queensland in April 1933, it was stricken from
the register.


Breaking News

: Ian Mcdonell reports that this Moth is currently under rebuild at CAC Caboolture.
See Ian's photo at foot of the page. No estimated time for completion has yet been set.