VH-UGA Avro 594B Avian Mk II (c/n R3/AV/123)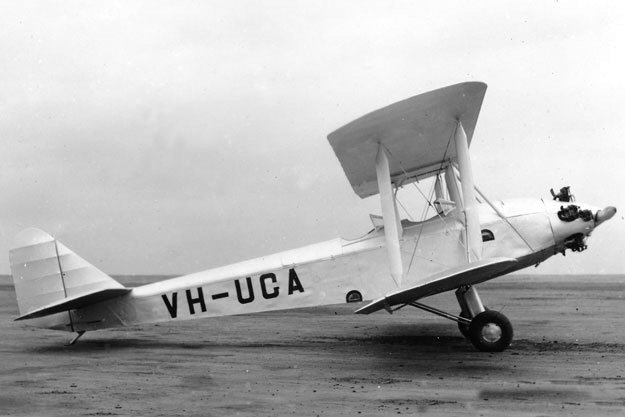 What an odd way to display a 'G'. The above photo, from the Civil Aviation Historical Society
archives was probably taken to affix to the CofA. This Avian had originally been imported by
the indefatigable Edgar Percival in January 1928. It was sold soon afterward to Silver Planes
Ltd of Glenn Innes, NSW before passing to W. Meredith and E. Lealand of Balmain, NSW
The photo below is from the E.A. Crome collection, courtesy of the National Library of Australia
and shows Jim Broadbent alongside the aircraft. He had flown it to victory in the New South
Wales Aerial Handicap race at Hargrave Airport on 20 September 1930. I believe this dark
color scheme may have been the original livery and the above one, and the one at the foot of the
page show later re-paints. The dark rego on dark fuselage as originally applied makes its identity
difficult to pick out. Surely a white rego would have given the machine better identification?
Possibly in real lighting conditions the registration stood out more than in photographic repro-
ductions such as this. On 8 August 1935 -UGA was struck on the ground by Airspeed Courier
-UUF and badly damaged. It then appeared to have languished for a couple of years before
being repaired in 1938 and registered to R.H. Hamblin of Ganmain, NSW. Unfortunately it
was one of the aircraft destroyed in the hangar fire at Essendon on 28 February 1939. The photo
at the foot of the page shows the Avian at Essendon circa 1939 with Howard Morris, from whose
collection this image comes, on the left.