VH-UHF Curtiss Ireland Comet (c/n O-38)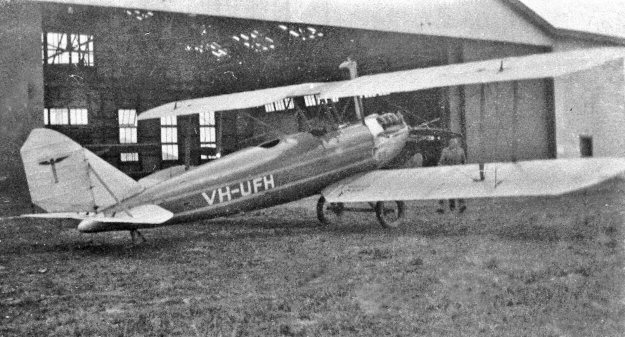 Another rare image from the John Hopton collection, taken at Mascot, circa 1930. Originally
imported in March 1927, this aircraft was built by Curtiss engineer G. Sumner Ireland from
Curtiss Oriole components, although the new single bay wing mods had no official sanction
from the Curtiss company. Despite this, these aircraft were almost universally described as
'Curtiss-Ireland" by registering authorities. Incredibly, two Comets and a single follow-on
Meteor made their way to Australia: G-AUFG in 1926 (see previous entry), G-AUFH
seen above after re-registration to VH- status had occurred, and the Meteor G-AUFQ
(see its own entry) which came in in May 1927. 'UFH was originally owned by C.E.
McIntosh of Sydney. It had a couple of other owners in the late 1920s and was in the
hands of J. Stanborough when the registration was changed to VH-. Its CofR lapsed
in September 1932 and it was stricken from the register on 11 October of that year.
Geoff Goodall, who provides the two photos below, reports that "the fuselage and wings of
this old bird were stored for many years in a shed in Bourke Street, Maitland NSW. By the
time I tracked down the anonymous old shed in 1967 only the wings in the rafters remained.
The story I was told was that nobody knew who owned the old aircraft parts, and that this
shed had been flooded by several big floods at Maitland over the previous 20 years, so the
fuselage was in poor shape but the wings were above the water line. The fuselage had been
removed in late 1966 by somebody from the Lake Macquarie area who was due back to
collect the wings. Nothing else heard of since".