VH-UDN Sopwith Dove (c/n W/O 3004/3)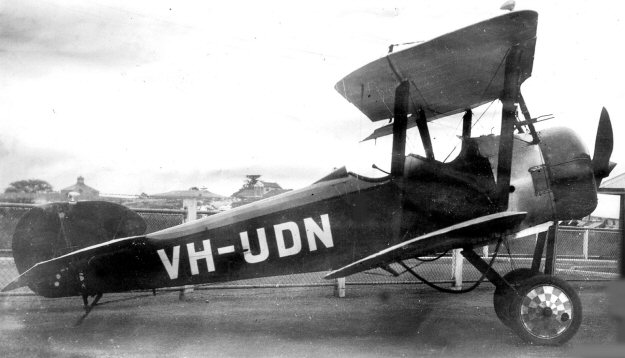 This Sopwith Dove was first registered in June 1921 as G-AUDN to a E.O. Cudmore of South
Yarra, Vic. The Frank Walters shot above (via Geoff Goodall) was taken circa 1930 by which
time it had become VH-UDN. In the shot below from the John Hopton collection it appears to
have a slightly different, or at least lighter, color scheme and with the VH- repeated on the rudder
(quite common in those days). The only picture I had of this Dove for years was the grainy image
seen at the foot of the page which was gleaned from a newspaper showing the machine at Mascot
with Adastra's hangar in the background. It had several owners in Victoria and NSW (and several
lapses of CofA in between) in the 1930s and was written off when it forced landed some 4 miles
NE of Goulburn, NSW on 27 February 1934.