VH-UBN de Havilland D.H.89 Dragon Rapide (c/n 6253)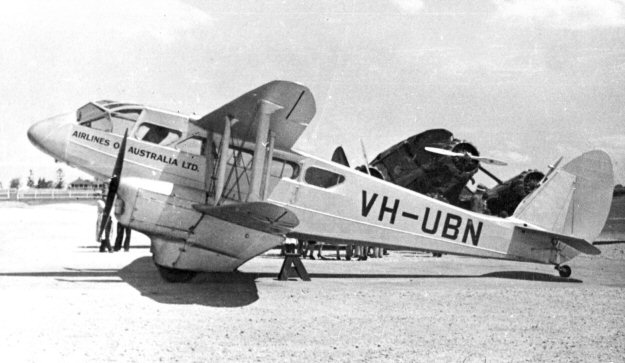 Formerly a "prohibited registration" the marks VH-UBN were not issued until 1936. This Rapide
was the former Hillmans Airways G-ACPO. Originally owned by Rockhampton Aerial Services
Ltd, it is seen above in the livery of Airlines of Australia Ltd who took over the North Queensland
outfit in September of 1936 in order to extend their services up the coast as far as Cairns. The
above shot, from the Geoff Goodall collection, shows the aircraft at Mascot, circa 1938 . Note
Stinson Model A in the background. Two more images from the Goodall album show the Rapide
at Parafield, circa 1942 (immediately below, # 2) in wartime olive drab, and following that (# 3)
a nice 1944 air-to-air shot of it, whilst it was in service with Guinea Airways. (Note Royal Mail
logo, but no Guinea titling). Finally, at the foot of the page (photo # 4), from the John Oxley Library,
State Library of Queensland collection, is a shot showing it outside the AOA hangar at Archerfield in
the late 1940s. Couldn't the photographer have waitied for the bloke to clear the viewing area before
pulling the trigger? VH-UBN had been impressed from Airlines of Australia in 1940 as A33-5 then
released to DCA for issue to Guinea Airways in April 1942 for their South Australian passenger
services. Its service with Guinea was short-lived as, on 20 July 1944, when the pilot attempted a
climb through cloud, it struck Mount Kitchener while on a Renmark-Adelaide scheduled service,
with the loss of all 7 on board.


2.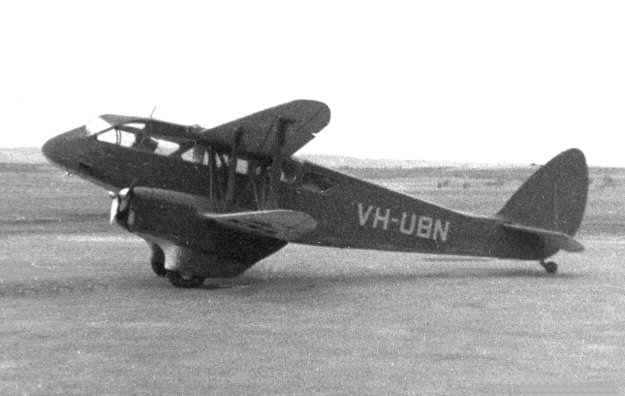 3.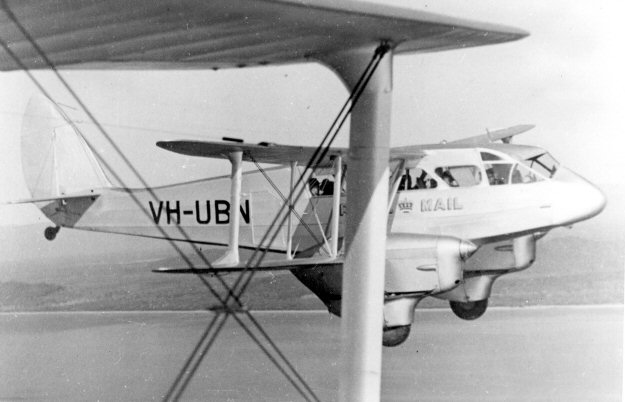 4.