VH-UBB (as G-ACRK) de Havilland D.H.83 Fox Moth (c/n 4090)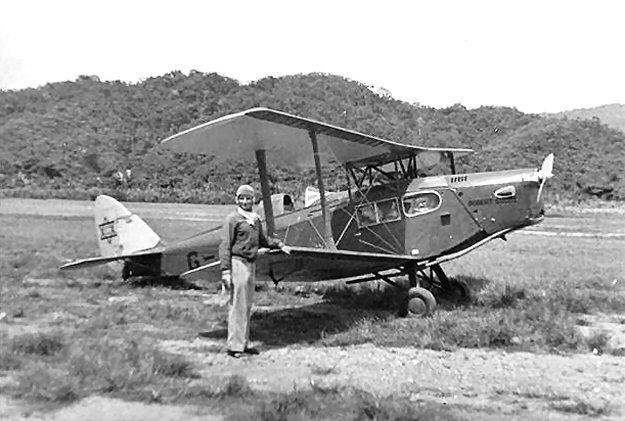 Historian Fred Niven indicates that this aircraft was still wearing its UK rego G-ACRK when it was
destroyed by enemy action on 21 January 1941 during Japanese air raids on Salamaua. It is likely,
therefore, that it never did wear its Australian VH-UBB identity. The shot above from the Wally
Civitco collection shows it in New Guinea as G-ACRK circa mid 1930s with the W.R. Carpenter
logo on the tail. When the Civil Aviation Branch of the Dept of Defence started issuing civil regis-
trations in 1921 , the double last-two regos were deemed 'not to be allocated'. This rule was
rescinded in the early 1930s and this Fox Moth became -UBB. The aircraft had had an interesting
history before arriving in Australia. Its original owner was John Grierson of Rochester who named
it "Robert Bruce". It had been specially modified with Short Bros floats for an England to Canada
flight via Iceland and the Greenland Ice Cap in July 1934. However, it was damaged at Reykjavik,
Iceland and Grierson returned to England with damaged parts for repair. The flight was recommenced
a month later and arrived in Ottawa on 30 August 1934. It crashed in the Ottawa River on tests
near Rockcliffe, Ottawa on 6 September 1934; was repaired and arrived in New York later that month.
It was registered to W.R.Carpenter & Co Ltd of Salamaua, New Guinea in October 1935 and renamed
"Roberta". It passed to Mandated Airlines Ltd in 1936 and was damaged in a forced landing at
Bulolo River, in July 1941, and the remains were destroyed by the Japanese as indicated above.