VH-UAV de Havilland D.H.60 Moth (c/n 369)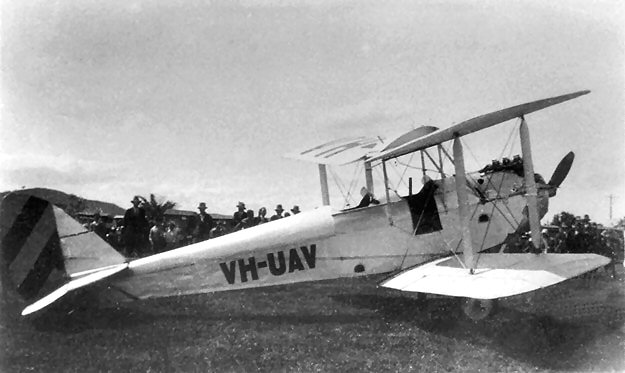 The above shot is courtesy of the Civil Aviation Historical Society archives, and is from the
John Hopton collection. It is wearing the tail stripes of the Royal Queensland Aero Club.
Since the narrative given on that site (http://www.airwaysmuseum.com) needs no
augmentation, I will replicate it in its entirety:

"One of the early batch of DH60 Moths purchased by the CAB for loan to the Aero Club movement to
support pilot training, this aircraft was built at De Havilland's factory at Stag Lane, UK, and shipped
to Australia. It was originally powered by a 95 hp Cirrus Mk III The aircraft was originally registered
under the early system of registration marks as G-AUAV to the CAB on 10 July 1929 with Certificate
of Registration number 302. The following month, on 16 August, G-AUAV was loaned to the Queens-
land Aero Club and based at Brisbane/Archerfield. It was damaged in a landing accident on 16 March
1930 but its Certificate of Airworthiness was renewed after repair by Q.A.N.T.A.S. at Brisbane/Eagle
Farm. The registration marks were probably amended at this time under the new scheme to VH-UAV.
The photo above shows the aircraft after the registration mark change carrying the identifying rudder
stripes of the Queensland Aero Club. VH-UAV soldiered on with the Aero Club until 1934 when the
Cirrus was replaced by a DH Gipsy I engine. Just under three years later, on 19 June 1937, VH-UAV
was destroyed in a mid-air collision with VH-UAN, another CAB Moth on loan to the Queensland Aero
Club, 1/2 mile south of Archerfield."

Seen below is an image from the John Oxley Library, State Library of Queensland collection
showing -UAV with the Queensland Aero Club circa 1929 and sporting the name "Snipe".
Photo no 3 is from the Ross Stenhouse collection and shows -UAV after a mishap.. I am
not sure if it is the landing accident indicated above or not, but in any event it doesn't look too
serious. Finally, at the foot of the page is a shot from the Geoff Goodall collection showing
-UAV with the RQAC at Archerfield, circa 1936. .