VH-UAU de Havilland D.H.60X Moth (c/n 414)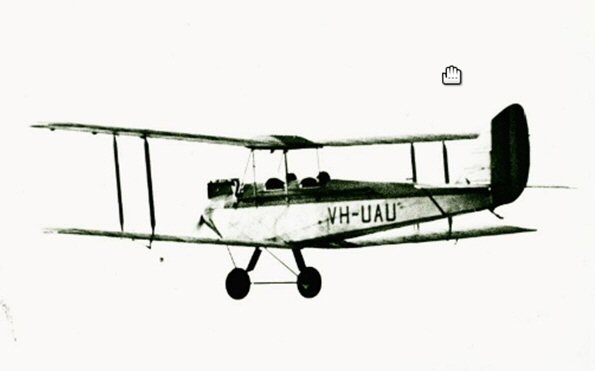 VH-UAU was built as a seaplane and was one of 20 Cirrus Moths delivered to an early RAAF
contract. It was assigned the serial A7-13 and operated by the Seaplane Flight at No 1 FTS,
Point Cook. In September 1932 it was released from the service and was taken over by the
Civil Aviation Board, Dept of Defence and loaned to the Australian Aero Club (Tasmanian Section)
at Western Junction Airport, Launceston. In 1937 it was absorbed into the Tasmanian Aero Club.
The photo immediately below, from the Lawrence Roche collection shows it at Hamilton, Vic in Dec
1938 still with Tasmania Aero Club tail strips although by then it had been solid off by the aero club.
It had several other owners in Victoria and NSW finally winding up in 1943 with H.C.Mark of
Deniliquin, NSW, following an earlier crash at Barellan, NSW. (Turns out Mark flew -UAU on
several occasions in the late 1940s without the machine having a full CofA). It was eventually
stricken from the register and languished in a shed at Deniliquin where John Hopton took photo # 3
below, circa 1960. In 1964 it was acquired by the Powerhouse Museum in Sydney where it is
currently displayed in Tasmanian Aero Club markings. The illustrations above and at the foot of the
page are from the Museum and show the Moth in its originals form. Today it is suspended from the
ceiling. .