VH-UAO D.H.60G Moth
(c/n 613)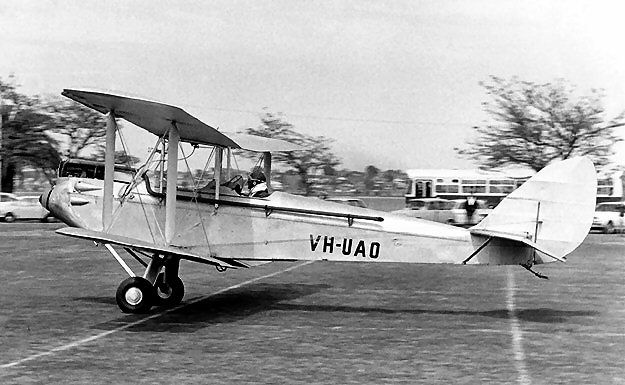 Here's an old-timer which is still on the current Australian register. It was originally built as a D.H.60X
Moth for the RAAF and delivered in 1928 as A7-9. When newer machines began to arrive, the Moth
was released for civilian use and was one of the aircraft reconditioned for loan by the Civil Aviation
Branch sponsored Aero Club movement. Assigned VH-UAO, it went to the West Australian Section
at Maylands Aerodrome in Perth. It suffered the usual amount of prangs associated with Aero Club
use* and in 1936, during a rebuild, was converted to the then standard of RAAF machines by swapping
out the 80 h.p. Cirrus Mk II engine with a D.H. Gipsy Mk I., thus making it a D.H.60G. A year later
the Royal Aero Club of WA was born out of the Aero Club movement and VH-UAO was assimilated
into the fleet. When WW II broke out it was again impressed into RAAF service and given the serial
A7-92 (the only Moth to assume two RAAF serials?). Demobbed again in 1945, it was sold for a
hundred quid to J K Vine of Vine Motors, Perth and then on-sold, being restored to the civil Register
as VH-UAO on 26 March 1946 to John Lane of Kalgoorlie. The photo above from the Geoff Goodall
collection shows shows VH-UAO in its post-War guise at Maylands c.1960, whereas the NLA image
below is from its earlier period seen flying over the Swan River at Perth in 1932, piloted by early West-
ern Australian Airways pilot Val Abbott. The Moth is still current and is now restored all decked out
in RAAF uniform as seen at:
http://www.adf-gallery.com.au/gallery/DH60-A7-9/GPH_2A7_9
For a rare shot of it as A7-92 go the the CAHS page at:
http://www.airwaysmuseum.com/DH60%20VH-UAO.htm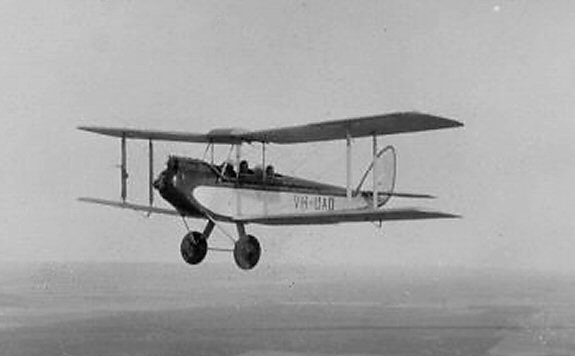 * Here's one of them when it crashed on 30 August 1932 into a foot of water in the Swan River. It was
being flown by a young pupil and an instructor from the WA Branch of the Australian Aero Club. Note
common practive then of painting the rego right over the ailerons.
Photo extracted from the West Australian of 31 August 1932.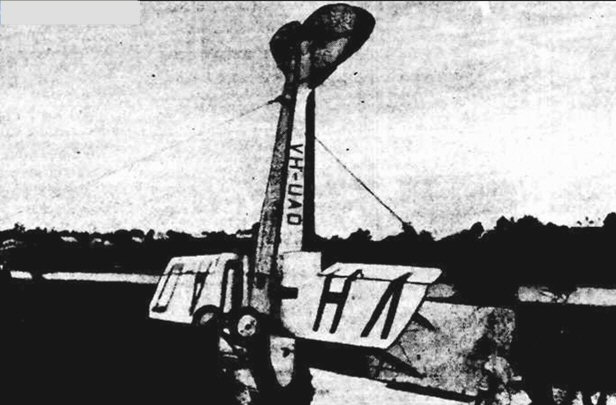 * ............ and another one, also into the Swan River. Again from the West Australian, this time for
5 March 1935: