VH-UAI Miles M.2 Hawk (c/n 155)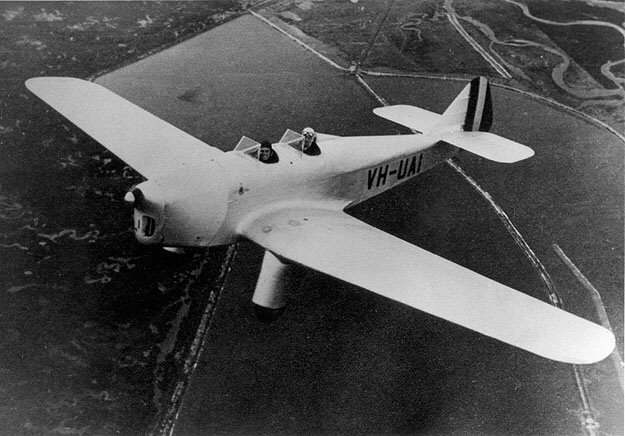 VH-UAI was a prohibited registration back in 1926 when it should have been assigned. In the
event it was released in 1935 for this Miles Hawk. It was delivered to the Royal Aero Club of
SA. The image at the foot of the page, courtesy of the Goulburn War Memorial Museum collec-
tion, shows it in its original livery. By 1938 it had obviously received a new silver paint job as seen
in the other photos on this page. The shot above is from the CAHS (Civil Aviation Historical Society)
collection, whilst the photo immediately below is courtesy of the State Library of South Australia and
shows the Hawk in an interesting line-up of Royal Aero Club of SA aircraft at Parafield in 1938.
What is odd is that -UAI appears not to be carrying markings on the top of the mainplane.
Whilst normal today, that would have been almost unheard of in the days when this machine was
in operation at the Aero Club. VH-UAI "did its time" in the RAAF as A37-5 during WW II,
eventually crashing and being struck off the register at Mt. Eba, South Australia in 1948. The
air-to-air picture following the line-up photo is courtesy of the Daryl Mackenzie collection.