VH-UAC de Havilland D.H.53 Humming Bird (c/n 103)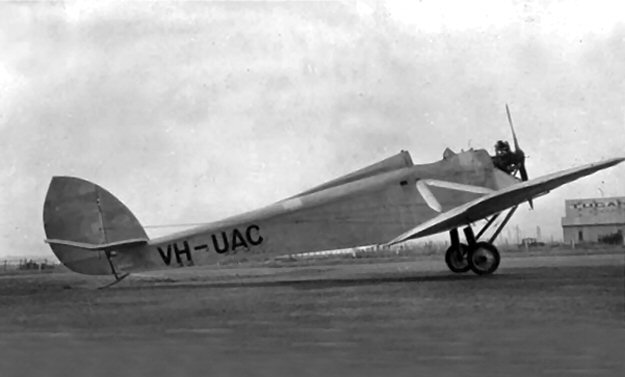 The interesting shot above comes from The A.J.Jackson Collection at Brooklands Museum. (for
their great range of historic prints go to http://www.ajjcollection.co.uk). The image below comes
from the Stephen Barnham collection and was taken by his father (or uncle) at Point Cook, Victoria
whilst the aircraft was still registered G-AUAC . The photo at the foot of the page via Geoff
Goodall shows -UAC during a rebuild at Rockhampton circa 1931. The Humming Bird was
de Havilland's entry into the ultra-light aircraft field. It was built primarily as an entrant for the light
aeroplane trials being held at Lympne, Kent in October 1923. Including the two built for the trials
(which were powered by 750 cc Douglas motorcycle engines), de Havilland's built about 15 of them,
no fewer than three of which went to Australia. The production models were powered by a 26 hp
Blackburn Tomtit two-cylinder vee engine (looks like something one would put in one's model).
This particular machine had the Tomtit exchanged for a more powerful Bristol Cherub engine in
1928, four years after it was imported for the Australian Department of Defence, Civil Aviation
Branch. The photo below appears to show it with the original engine. Anyway, the Branch
sold it to the Aero Club of NSW in 1930 and it had several private owners after that. A further
engine change was made in 1935 to a 35 hp ABC Scorpion and incredibly it was then sold to a
Mr. J. Bower in Samoa, departing Sydney on 20 May 1937.