G-AUIB de Havilland D.H.60G Gipsy Moth (c/n 848)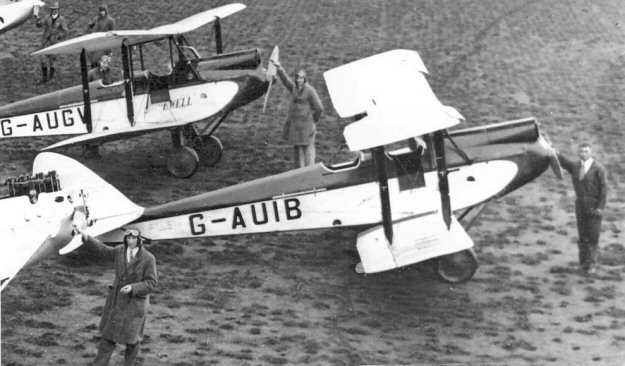 Several images have come to light on this aircraft. That above is from the the Neil Follett collection
showing a line up of Moths (and accompanying intrepid airmen), probably at the South Australia
Section of the Australian Aero Club, circa 1929. The following two shots are from the State
Library of South Australia collection. Upper shows it about to touch down at a "suggested site
for an airport - 1937" (it did not say where) and lower in a line up of RACSA machines at Para-
field in 1938. By then all club machines had the tail stripes and all had been re-registered VH-.
Cropped photo No 4 is from the State Library of New South Wales collection showing the Moth
at an air pageant at Mascot in 1938, probably after it had been sold by the aero club to a private
owner. Finally at the foot of the page is an evocative shot from the Kevin OReilly collection de-
picting -UIB over Essendon when it was owned by Charlie Pratt in 1939. This Moth went on to
serve in the RAAF as A7-109. It was presumably struck off charge in the early 1940s.