G-AUHX Avro Avian Mk. IIIA (c/n R3/CN/235)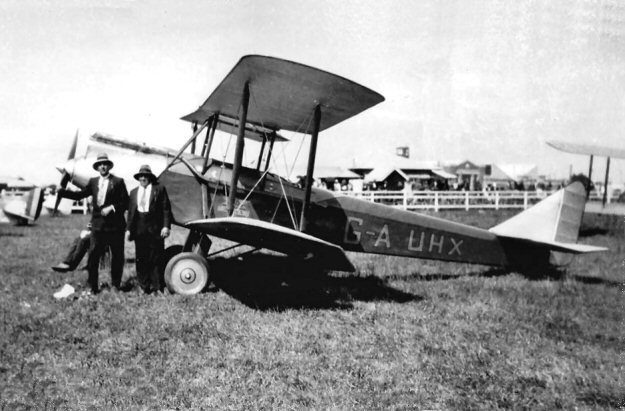 Odd that this image is from the John Oxley Library, State Library of Queensland collection, as this
Avian was never registered in Queensland. Also, it appears that, from the odd spacing of the rego,
that it was preparing itself to become VH-UHX! It was probably owned by V.T. Chapman of Jeril-
derie, NSW when this shot was taken, circa 1929 (at Archerfield?). It went to Victoria in 1937,
survived the war, and was registered to owners in South Australia from 1946 until it was stricken off
the register as late as August of 1951. Below are a couple of shots from the Adrian Heinrich collection
(via Geoff Goodall) showing the Avian post war on a farm at Bute, SA circa 1946. It had departed
Melbourne on 10 May 1946 on a delivery flight to South Australia after purchase by Charlie Crosby
of Bute from a previous owner at Geelong Vic. It did mostly local flying in the Kadina/Bute district
although there were some longer trips into outback SA. The owner tipped the Avian onto its nose
during a landing in tall grass, but continued flying it until an inspection at Parafield around 1949 found
damage including cracked engine bearers from that event. In those days it was not considered worth
the cost of repair and the Avian was left in the back of the Robbys Aircraft hangar until carted away to
the tip.