G-AUHA de Havilland D.H.60X Moth (c/n 426)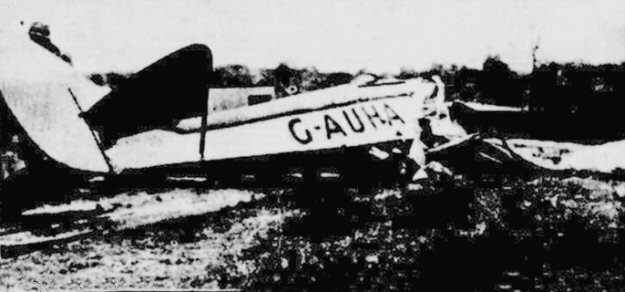 This image is from the Adelaide Regiuster-News Pictorial for 15 February 1929, even though the
aircraft had crashed at Marulan, NSW on 11 February of that year. The Sydney Morning Herald
had a story about it in their 12 February edition, but ran no picture! The aircraft had arrived at
Goulburn at 08.00 hrs and was to continue on to Sydney. The weather was deteriorating and the
two occupants, Capt. E.W. Cornish, owner of the machine and his pupil, G.K. Wride were advised
by Capt. Matheson, an instructor with the Goiulburn Aero Club, not to continue the flight.. Never-
theless Cornish elected to carry on and evidently Wride was in control when the aircraft, flying at
around 100-150', nose dived onto a stony ridge three miles from Marulan. Both aviators died of
their injuries and the aeroplane was "reduced to a tangled mass of wreckage". Despite this is was
rebuilt by Genaircos and became VH-ULH.
G-AUHA had originally been sold, new, to J. Rosenfeld of Sydney in March 1928 and he had
sold it to Capt. Cornish in November of that same year.