G-AUGS de Havilland D.H.60X Moth (c/n 604)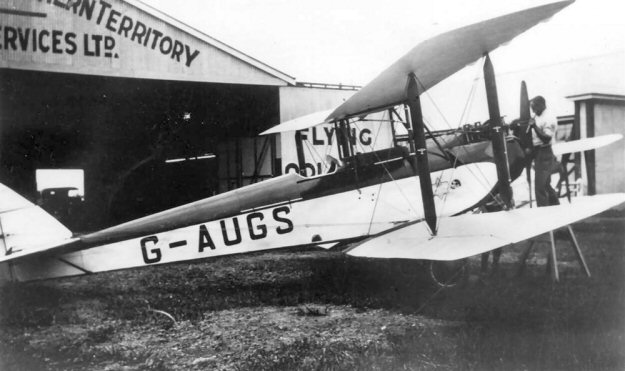 Too bad the tail is cropped. Otherwise this is a very nice shot of a Moth receiving some prop attention
outside Qantas' hangar at Archerfield in 1929 from the John Oxley Library, State Library of Queensland
collection. This Moth was being flown, at the time, by Captain the Honourable Hugh "Puck" Grosvenor
of Adelaide in his epic solo around-Australia flight, the first to be completed. For this feat Grosvenor
posthumously* received the National Trophy for Australia, one of the Harmon Trophies set up by
American real estate tycoon and avid balloonist Clifford B. Harmon to be awarded annually for the
most outstanding aviator/aviatrix of that particular year Later, and as VH-UGS, the Moth went on
to have several other private owners in South Australia and Victoria before being withdrawn from use
in 1947. Oddly, it was not impressed into service during the war.

* Sadly Hugh Grosvenor was killed on 6 January 1930 when the Wackett Widgeon in which he was a
passenger suddenly and inexplicably dived into Port Phillip Bay, just off RAAF Point Cook. As an
aside, Horrie Miller, later founder of MacRobertson Miller Aviation named his Lockheed Vega
VH-UVK

"Puck"

in memory of his friend, Hugh Grosvenor.

Immediately below is a photo from the National Library of Australia collection showing Hugh 'Puck'
Grosvenor refueling the Moth, circa 1929 with a vintage Shell truck in the background.

In 1928 Capt. Grosvenor was also the ADC to the Governor of South Australia. In September of
that year he had the embarrassing situation wherein he overturned G-AUGS in a dust storm with his
boss, the Governor of SA on board. Evidently neither were seriously injured. Photo # 3 below is
from the Broken Hill Barrier Miner newspaper of 3 September 1928.

Finally at the foot of the page is an image from the Lawrence Roche collection showing the Moth now
as VH- and taken, according to Lawrence, at Coode Island in 1936. That being the case I am wonder-
why it was in drab paint and wearing RAAF tail stripes? In the event it appears never to have been
given an A7- serial number. -UGS was wfu in 1936 and restored to the register (new C of A) in 1941.