G-AUFR de Havilland D.H.60 Moth (c/n 351)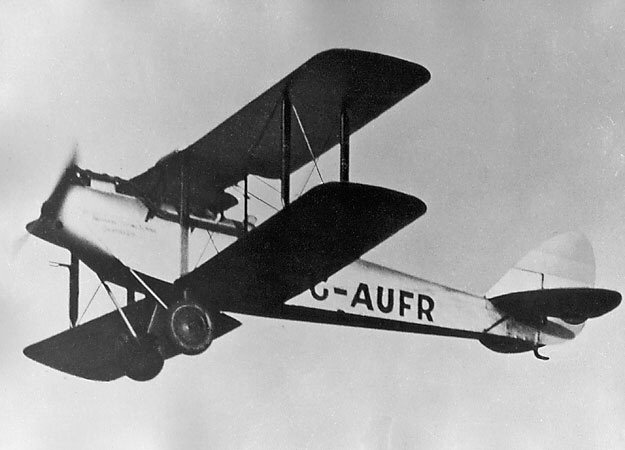 Another Qantas image (above) from the Phil Vabre collection. The registration looks a little touched
up. Below are two shots from the Frank Walters collection showing it a little more realistic. Top one
at Longreach, lower at Archerfield. Any idea as to what the titling is saying on the lower one?
-UFR was imported by Qantas in 1927, and was one of many sold to the Civil Air Branch of the Dept
of Defence for loaning out the the Australian Aero Clubs. This one went to the Queensland Section.
On 11 February 1934 -UFR crashed on the roof of a house in Jurgens Street, South Brisbane. . The
image at the bottom of the page was unearthed by Graeme Parsons from the next day's Courier Mail.
The aircraft apparently spun in from some 3000 ft. Fortunately the old roof gave way, cushioning the
impact and neither the pilot nor his passenger, nor the inhabitants of the house were seriously injured.
Despite the fact that the newspaper report indicates that the Moth was "totally destroyed" it was, in fact
repaired and by June of 1936 was registered to Skyways Australia Ltd. I believe they may have done
skywriting. Photo No 4, also from the Walters collection, shows it now as VH- at Archerfield, circa
1936. I am not sure if it was owned by Skyways at the time, but, in any case, can somebody advise the
meaning of the cryptic letters as seen on the enlargement of the rudder, in photo No. 5? VH-UFR was
finally destroyed by fire whilst undergoing overhaul by Qantas at Archerfield
in 1939.