G-AUFB Airco D.H.9C (c/n 853)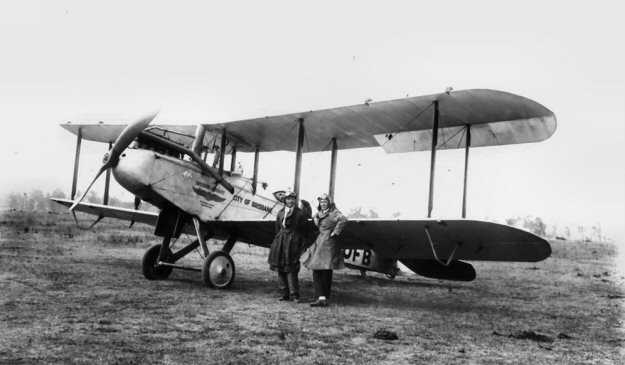 The images above and below of this old crate are from the John Oxley Library, State Library of
Queensland collection. The designation 9C was given to those ex-military machines which had
been converted for civil use. G-AUFB began life as H9337 in the RAF and was civilianized as
G-EBKV in 1926 and exported in July of that year to Australia for D.G. Brims & Sons Ltd of
Brisbane. Interestingly, it was evidently employed on a flight from Brisbane to Lismore and
then on to Mascot on the very same day it was first registered (24 September 1926) and flown
by a "Mr Adair" with two passengers. The 3rd image is a take-off of a photo which appeared
in the Sydney Morning Herald of 25 September 1926, the caption of which indicated that it had
a rough landing when it struck a sandy patch at Mascot aerodrome and damaged the prop. The
article went on to say that the passengers felt little of this mishap. Shortly after that, at the end
of 1926, the aircraft went to Courier Aircrafts and was used, along with Avro 504K G-AUEW
to deliver The Courier newspaper to rural areas. It was named

'City of Brisbane

' and at the
foot of the page is a print of a Exxon Mobil advertisement (via Wally Civitico) indicating that
G-AUFB had just been "added to the fleet of the Brisbane Aircraft Company and was being
christened by the mayor of that city, Alderman W.A. Jolly". However, so far as official records
show, neither D.G. Brims & Sons nor Courier Aircrafts Ltd ever officially traded as Brisbane
Aircraft Company. The ad went on to indicate that Plume Aviation Spirit and Gargoyle Mobil
Oil were used in the machine. In the event, and by whatever name, the newspaper delivery
service was short-lived, and -UFB was sold in September 1927 to Guinea Airways of Lae, NG.
It crashed into the Bulolo River, 8 miles north of Wau in March of 1928 and, as such, was never
re-registered into the VH-U series.