G-AUEJ de Havilland D.H.50A (c/n 130)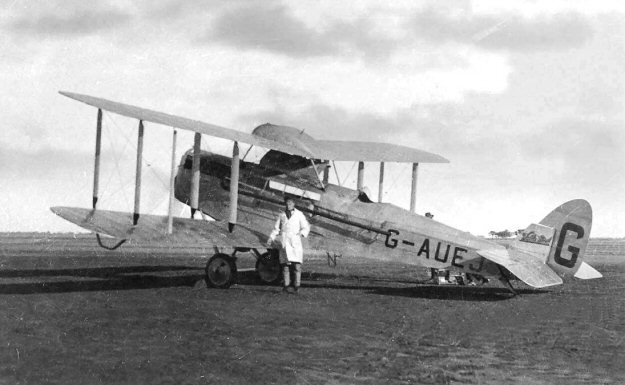 Larkin Aircraft Supply Company Ltd of Melbourne liked to name all their aircraft. This one was


"Wattle Bird"

and the tilting is seen in script on the fin in this image from the Hood Collection,
via the State Library of New South Wales collection. It appears, in this shot, to be powered by
its original 230 hp Siddeley Puma but at some point in time this was exchanged for a Bristol Jupiter.
In the almost identical shot of it below, from the Frank Walters collection (via Geoff Goodall) it
has now been re-registered VH-UEJ. Photo No 3 is from the Daryl Mackenzie collection and
shows -UEJ at Charlotte Waters, NT (which outpost was established in 1871 just across the
SA/NT border by two surveyors, McMinn and Knuckley during the construction of the telegraph
line) with the name redrawn in capital letters. At the foot of the page is an extract from the
(Adelaide) Register News-Pictorial for 14 February 1930 showing -UEJ now with the Bristol
Jaguar and describing the D.H.50 as having been reconditioned and modernized and as being one
of the aircraft used in Larkin's service between Camooweal and Daly Waters. It was destroyed
by fire during a forced landing at Methul, NSW on 9 June 1932.