G-AUEI de Havilland D.H.50A (c/n 129)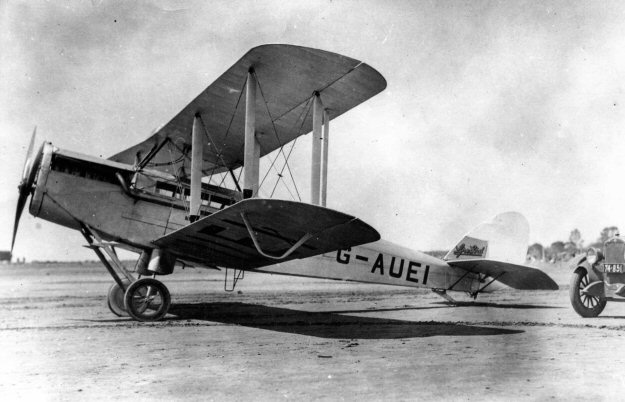 This was one of three DH50As operated by Larkin Aircraft Supply Co of Melbourne (LASCO)
on their air mail contract between Melbourne and Adelaide. This one was named

'Lyre Bird"

.
(The other two were G-AUEJ

"Wattle Bird"

and G-AUEK

"Bellbird"

). G-AUEI flew the first
passenger route between Broken Hill and Mildura 18 August 1925, the flight being piloted by A.H.
Affleck. The DH50s were later augmented by the larger ANEC III machines and the operation
renamed under the Australian Aerial Services Ltd corporate structure. The rare shot above of


'Lyre Bird"

is via Ian Mackenzie and is from the collection of his father, the late Daryl Mackenzie
G-AUEI was transferred to AAS in 1932 and re-registered VH-UEI. Immediately below are
two photos from the CAHS arvhives showing -UEI on floats, probably at Coode Island, date not
known. Following that is a shot, circa 1928, from Kevin OReilly of Nhill given to him by a lady
from Mildura (she's the child in front of

Lyre Bird

) whose father (presumably the gentleman in the
hat) was about to embark on the machine for a flight to Griffith. Note Sopwith Antelope G-AUSS
in rear. The images at the foot of the page are from the Harold Shelton collection (owner of the
aircraft at that time) showing (upper) the machine as VH-UEI and, finally a photo of it following its
last landing at the Stawell (Victoria) Race Course As late as 1939 documentation indicates the
remains of -UEI were acquired by a Mr. H. R. Beeston of Coode Island, Melbourne and the
metal parts of it, at least, were used in the restoration of VH-UEM.