G-AUDM Avro 504K (c/n AAEC/D8)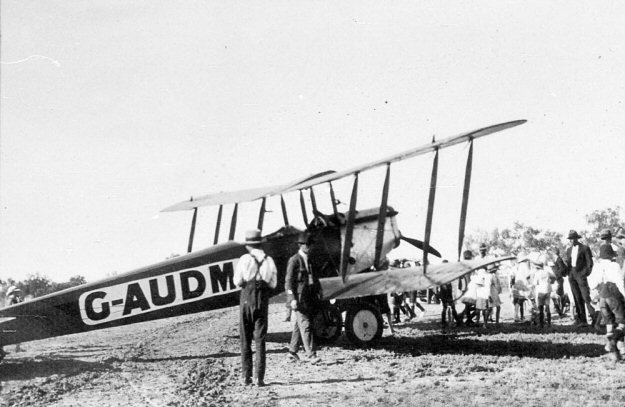 The photo above, from the State Library of New South Wales collection, shows this ancient Avro
on the Brewarinna Road at Walget NSW, circa 1921. It was registered to A.D. Reid of Taree,
NSW at the time, and was probably used for barnstorming and giving locals in outback NSW
aeroplane rides. In 1923 it was acquired by J.H.A.Treacey of Sydney, dba Aero Advertising.
A newspaper cutting, accompanied by the photo, gleaned from the 19 September issue of the
Brisbane Courier by Grame Parsons was captioned"
CAPTAIN TREACY'S AEROPLANE "BOGGED" AT ASCOT RACECOURSE.
When arriving at Brisbane at dusk on Monday evening Captain Treacy was forced to
make an emergency landing, and the machine came down in the middle of a swamp.
The propeller was broken".
In 1924 -UDM went to a small company known as Australian Air Lines and Brokerage Co Ltd in
Brisbane. When its Certificate of Registration came up for renewal in 1926 it was allowed to lapse.