G-AUCX Royal Aircraft Factory F.E.2b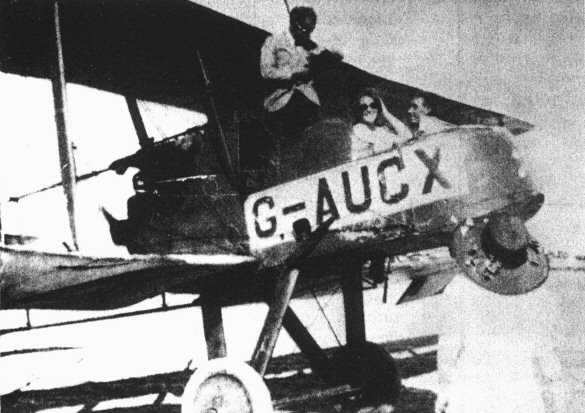 These two images were both gleaned by Geoff Goodall. The one above shows the ancient
ex-Military machine ( CFS14, formerly the RFC's A778) at Tarcolla, SA and was submitted
to 'Flightpath' magazine in a letter from a reader. The shot was evidently taken when the
owners Ray. J. Parer (standing) and his cousin Mark Parer (kneeling aside the passenger)
both of Melbourne, were on their way to West Australia for a barn-storming tour. The lady
passenger was Hazel Abernathy who was taking her first flight in an aeroplane. Her son
recalls that she was absolutely petrified and never flew again! The lower shot, from the Geoff
Goodall collection, shows the F.E.2b laying in Burt Street, on the outskirts of Kalgoorlie, WA
on 6 February 1922. The aircraft clipped telephone wires after take off from the Boulder

racecourse. Other reports indicate that the wheels struck the tramcar wires along Burt Street
. Both Ray and Mark were injured and the aircraft was not rebuilt. In the lower shot it is inter-
esting to see that, with the exception of the young boy, everyone is wearing a hat!