G-AUCM Airco D.H.4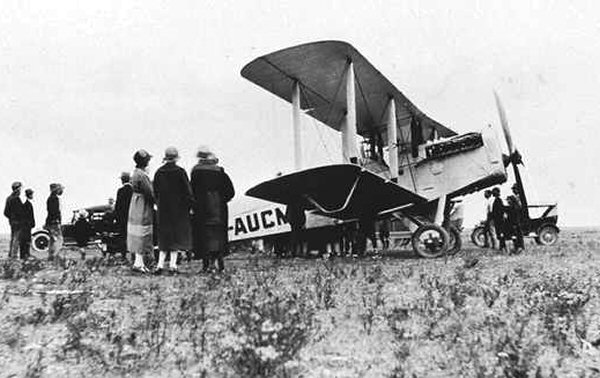 Formerly the RAF's F2691 this D.H.4 came onto the register in June 1921, and was owned
by C. J. de Garis of Mildura. He evidently used it on many business trips all over Australia.
At the foot of the page is an early illustration of it culled from "The Queenslander Pictorial of
10 December 1921 wherein it was shown as "the first aeroplane at Alice Springs". The crude
painting of the rego makes the "G" look like a "C". In 1922 it was sold to Larkin Aircraft
Supply Co Ltd who named it "Scrub Bird". The above image, courtesy of the State Library
of South Australia indicates that this shot was taken at Swan Reach, circa 1923 and that this
was the first aircraft to visit the district. The photo immediately below was picked up at a
garage sale in Albury by David Carter. The info on the back indicates that the pilot was Ray
Paper and that the shot was taken surrounded by local children at Alexandria Park in Albury
on February 16, 1927 Photo No 3 below, from the John Hopton collection, must have been
taken before the machine was painted in its civil rego, as a roundel can be seen under the star-
board wing. I just love that "prop swinging machine"! In 1927 G-AUCM was sold to
Bulolo Goldfields Aeroplane Service Ltd and two years later was taken over by The Morlae
Airline, of Lae, New Guinea. It was withdrawn from use in 1930 and struck off the register,
never having been re-painted as VH-UCM.