VH-UCK Sopwith Pup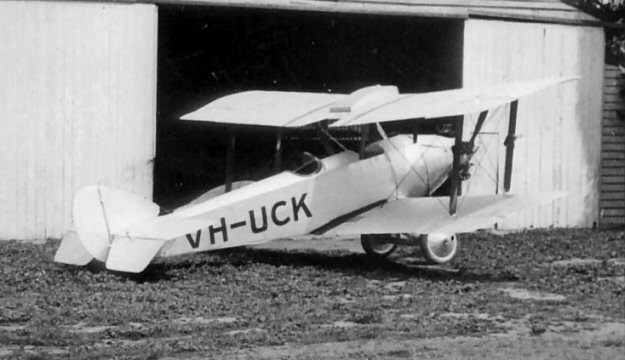 The Pup G-AUCK was acquired in June 1921 by C.D. Pratt, t/a Geelong Air Service and operated
from Belmont Common Airport. Its last flight was recorded on 24 June 1923 and it was then laid up
until 1942 when its CofA was renewed. In the meantime it had become VH-UCK and in 1938 had
had a 65 hp Genet Mk II installed. It was sold to W. Stillard of Deniliquin, NSW in December
1943 and flew until September 1945 when it was withdrawn from use and burned. The two photos
in this entry are from the McKenzie Family collection, via Kevin OReilly. The shot above was in the
early 1940s at Belmont Common while the image below shows it as G-AUCK during the Geelong
'Gala Days' in 1922.