G-AUCG Avro 504K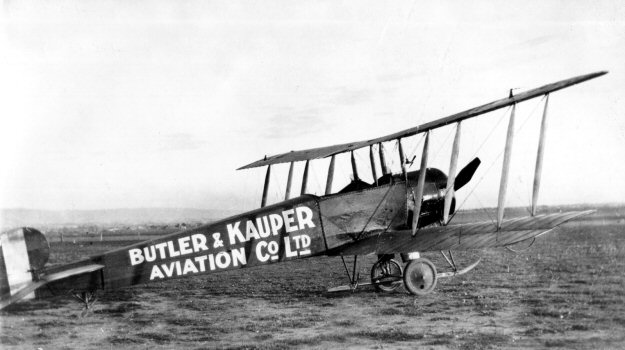 Rare shot from the Civil Aviation Historical Society of South Australia collection of an Avro 504K
registered in June 1921 to H.J. Butler and H.A. Kauper t/a The Harry J. Butler and Kauper Aviation
Co Ltd of Northfield, SA. For some legal reason the title of the aircraft was transferred to H.J.
Butler alone in September 1921. Whether or not the G-AUCG markings were ever painted on the
machine is not clear, since it crashed and was written off at Minlaton, SA on 11 January 1922 and
stricken from the register on 17 February of that year. Captain Butler was seriously injured in this
crash although after many hospital visits was able to restart his flying carreer and new business ventures.
However in July 1924 the effects of the Minlaton crash finally caught up with him when he died from
an unsuspected cerebral abscess. Thirty five Avro 504s were donated as 'Imperial Gifts to Australia".
G-AUCG was probably one of them although its prior identity has never been positively determined.
The photo below of one of these Avros was gleaned by Kevin OReilly of Nhill. This aircraft was
allocated the RAAF serial A3-16 and, may well have been the one to have been allocated the rego
G-AUCG.