G-AUBO Airco D.H.6 (c/n 642)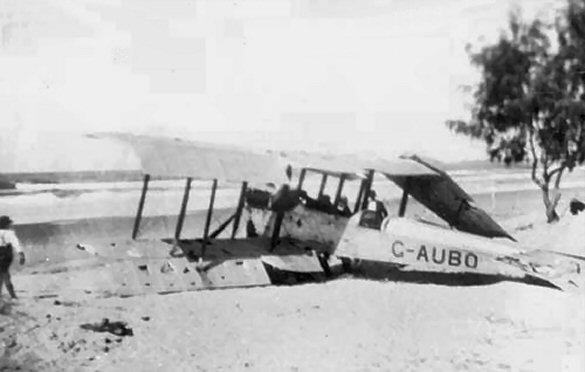 First registered in June 1921 to F.T. O'Dea of Bathurst, NSW, this was the former RFC's
B2803. It was sold to S.L. Tyler of North Sydney in March of 1925. In November of
1926 it was acquired by N.C. Marconi and A.G. Diegnan t/a Eagle Aviation Services of
Brisbane. Colin Lock provides the shot below from the album of the late Connie Jordan,
via Mary Thurston. It was probably taken at Archerfield around 1926. The two gentlemen
are Frank V. Sharpe, in the cockpit and part owner Diegnan standing. -UBO crashed taking
off from the beach at Maroochydore, Qld on 27 January 1927, whilst giving joy rides. The
Sunshine Coast Libraries' image above shows it after the crash. It remained on the register
until its CofA lapsed in January 1928 when it was struck off.